Premiere Pro bug ate my videos! Bloke sues Adobe after greedy 'clean cache' wipes files
Videographer stung after app nukes '$250k' of footage
---
Adobe is being sued after Premiere Pro unexpectedly deleted a snapper's valuable media files.
David Keith Cooper on Wednesday sued Adobe in San Jose, USA, on behalf of himself and anyone who purchased Premiere Pro 11.1.0, and, as a result, had their personal media files nuked by the video-editing suite. The sueball claims a bug in the application caused it to judiciously erase expensive footage for his projects when he hit the "Clean Cache" function.
In his complaint [PDF], Cooper claimed he subscribed to Premiere Pro Creative Cloud in 2013, at $50 a month, and in April 2017 upgraded to Premiere Pro 2017 aka version 11.1.0. Premier Pro happened to cache its media files on the computer's internal drive.
At some point, he wanted to free up space on that drive, so told the app to instead use the "Videos" directory on an external storage device to store cached materials. That "Videos" directory also happened to contain footage Cooper, a professional photographer and videographer, had been using for his work. We think you know where this is going.
When he later hit a button to clean the suite's cache, rather than delete the "Media Cache" folder in his "Videos" directory, it instead wiped everything that hadn't been accessed for 90 or more days from the whole "Videos" directory, it is claimed.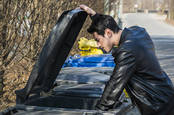 On the third day of Windows Microsoft gave to me: A file-munching run of DELTREE
READ MORE
As a result, Cooper claims, he lost over 500 hours of video clips, around 100,000 individual video clips and commissioned work that was worth an estimated $250,000. Over the next three days he would try in vain to get the wiped documents back with a recovery tool.
Adobe would later acknowledge the bug in the release notes for a Premiere Pro 2017 11.1.1 update, saying the patch "changes the behavior of the media cache deletion. With 11.1.1, only files that are within the Media Cache folder's sub-directories will be deleted. Files that sit next to it will no longer be affected."
Now, Cooper wants the software house to pay up and cover damages sustained by him and any other media professionals who had their files accidentally snuffed out by the overzealous cache-dumping.
"Adobe made material omissions upon which Plaintiff and the Class members relied, causing them financial injury," the complaint alleges.
"Adobe failed to disclose to Plaintiff and the Class members that Premiere Pro's 'Clean Cache' function would permanently delete their Files and Data, and Plaintiff and the Class members suffered financial injuries on account of Adobe's omissions."
Adobe declined to comment on the case, citing a policy against discussing pending litigation. ®