This article is more than 1 year old
Docker invites elderly Windows Server apps to spend remaining days in supervised care
Version 2.1 of Docker Enterprise brings Windows App Migration Program
Docker on Thursday plans to introduce a Windows Server Application Migration program with the release of Docker Enterprise 2.1.
Some 70 per cent of Windows Server apps run on Windows Server 2003 or 2008, according to the company, citing Spiceworks stats. Microsoft ended extended support for the former in July 2015 and plans to end extended support for the latter in January 2020.
Docker is offering its enterprise container platform as a way for companies to keep their ancient applications alive in the absence of official fixes and support, while maintaining some semblance of compliance – Docker Engine scored its FIPS 140-2 validation last month and the latest enterprise release speaks SAML 2.0.
The Windows Server Application Migration program consists of: Docker Professional Services, so you can pay someone to handle the mind-numbing details; Docker Application Converter, to automate the identification and conversion of eligible apps on creaky servers; and Docker Certified Infrastructure, which means Docker has tested its installation scripts with its partners so its software will actually run out of the box without some cryptic error.
The app shifting program allows organizations to pack legacy apps into dockerized Windows Server 2003 or 2008 containers that then are run by Docker Enterprise on Windows Server 2016, 1709, 1803, and 2019, on premises or via AWS, Azure, or vSphere – the Certified Infrastructure mentioned above.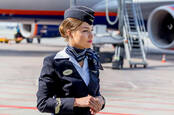 Pain spotting: Russia's Aeroflot Docker server lands internal source code, config files on public internet
READ MORE
The advantage of this approach, the company says, is that Docker Enterprise makes application discovery and containerization easier to manage. Organizations wrestling with legacy Windows code can, of course, attempt an operating system upgrade but that doesn't solve the maintenance and patching issues - which become particularly acute when apps are no longer actively developed.
"We believe this program will help companies not just deal with their immediate needs but build a foundation for their future innovation," said Jenny Fong, director of product marketing at Docker, in a phone interview with The Register.
She pointed to trendy technologies like blockchains and machine learning that might tempt technologically deprived organizations suddenly given access to modern computing infrastructure.
Banjot Chanana, veep of product at Docker, said containerizing apps allows companies to enhance their security posture. "This becomes more critical with the impending end of extended support for Windows 2008," he said.
Chanana said Docker Enterprise 2.1 includes a number of improvements that make containers and Windows better together, like the ability to patch the underlying host operating system and containers separately, reduced image sizes, and virtual IP-based load balancing.
"This really brings Windows up to par with Linux containers," said Chanana.
In an email to The Register, Forrester analyst Dave Bartoletti said Docker's app conversion program should make it easier to wrap old Windows Server 2003/2008 apps into containers so they can run on modern Windows platforms.
"In addition to containerizing them, Docker will help you find them and migrate them with new tools and services," he said. "This service should help kick some companies into modernizing their oldest Win apps before they're out of support completely." ®