Google vows to take claims of sexual assault, harassment seriously, just like privacy
CEO apologizes following mass walkout by Googlers, then bungles justification for censored Chinese search
---
Google CEO Sundar Pichai on Thursday announced internal policy changes in an attempt to address employee demands. This comes after thousands of Googlers walked out last week over executives' handling of sex pests and sexual assault within the ad giant.
"We recognize that we have not always gotten everything right in the past and we are sincerely sorry for that," said Pichai in an email send to employees that the company made public. "It's clear we need to make some changes."
The changes are detailed in a three-page [PDF] action plan. Chief among them is an end to forced arbitration. Instead of requiring arbitration for sexual harassment and assault claims, it will now be optional. That applies to individual claims but not group actions.
Acknowledging the problem
Google will also be expanding its Investigations Report to include a count of "substantiated or partially substantiated" claims over time, as well as trends, disciplinary actions, and substantiation percentages. Further data on the type of behavior that merits dismissal will be included in the Silicon Valley titan's annual report.
The biz intends to release its policy guidelines for reporting and handling harassment and to give employees a copy of a forthcoming internal Investigations Practice Guide, so workers know what to expect when incidents get reported.
Several steps will be taken to provide better care for those seeking to make claims, including extended counselling and support for accommodations and company leave. Those making claims will be allowed to bring a colleague with them when making a report and the company intends to create a dedicated group in its Employee Relations team to advise claimants.
The company's reporting channels will reevaluated, starting next year, and the biz intends to take a more active role in overseeing complaints against or by temps, contractors, and vendors.
Google is also promising to make diversity, inclusion, and equity more present in its Objectives and Key Results (OKRs) management metric. In other words, it wants to improve the representation of underrepresented groups in its workforce.
"For new or vacated positions at the Director level or above, we'll commit to having a diverse slate of candidates on the interview short list," the company says, allowing itself an exception when filling highly specialized roles.
This isn't going to be popular
Noting that in 20 per cent of harassment reports, the perpetrator had been drinking alcohol, the company says it expects corporate leaders – directors, VPs, and SVPs – to take steps to limit excessive drinking during company-related activities. Google is leaving the methods for discouraging drunkenness – drink limits, drink ticket systems, or the like – to its execs. But it says further restrictions will follow if the problem continues.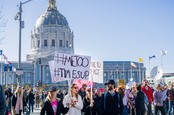 Ex-Microsoft manager sues former coworkers and Windows giant over claims of sex assault, gender discrimination
READ MORE
And next year, all employees will be required to complete sexual harassment training annually. New Google employees (Nooglers) will also get an extra dose of education on the subject.
The measures announced by Pichai fall short of what employees asked for in several instances. The company's chief diversity officer Danielle Brown has not been elevated to report directly to the CEO, and employees have not been granted board representation. Employees also asked for pay and opportunity equity. Employee-gathered data suggests the company pays men more than women; Google takes issue with those figures and argues women at the company make 99.7 cents for every dollar men make.
Also left unaddressed is how the company will handle things when a senior executive becomes involved with an employee and a harassment claim follows, as is said to have led to the departure of former Android head Andy Rubin. ®