Qualcomm: Welp, there's a $5bn-ish Apple-shaped hole in the books, but at least we have other chip buyers
Chinese mid-tier phone-makers, 5G hype to the rescue
---
Breaking up is expensive: losing Apple as a customer meant Qualcomm missed out on 50 million cellular modem chipset sales for the latest batch of iPhones, and slipped into a net loss for its fiscal 2018. However, the chip designer insisted the worst is over.
US-based Qualcomm on Wednesday released [PDF] its fourth-quarter and full-year fiscal 2018 financials – the first year-end results since Apple hung Intel's picture on the wall and bunged Chipzilla's cellular chipsets in its gear.
For the final quarter, the three months to September 30, Qualcomm announced GAAP results of:
Revenue of US$5.8bn, down 2 per cent on the $5.9bn of Q4 2017.
A $700m operating loss, down from a $300m operating profit for Q4 2017.
Net loss of $500m, down from a $200m net profit for Q4 2017.
Diluted earnings per share of –$0.35 (compared to $0.11 last year).
The full-year summary is:
Revenue up 2 per cent over 2017, to $22.7bn.
Operating income down 72 per cent, from $2.6bn to $700m.
Net income down from a $2.7bn profit last year to a $4.98bn loss.
Diluted EPS of –$3.32 (down from $1.65 last year).
The company's QCT (its product-design business) managed to turn in flat revenue of $4.65bn for Q4, because in spite of Apple picking Intel tech over Qualy's for latest-gen iPhones, CEO Steve Mollenkopf said Chinese mid-tier mobe-makers are buying more Qualcomm silicon so they can move into the high-end.
As a result, the San Diego biz was able to ship 232 million cellular modem chipsets, up just about from 220 million in 2017. The QTL licensing business, meanwhile, was hit harder, because the complicated Apple dispute over payments and patents meant it lost license revenue from another silicon vendor. In Q4, QTL revenues were down 6 per cent year-on-year to $1.138bn.
Now that Apple's off the books, Mollenkopf sees better times ahead, telling analysts on an earnings call the company's Q1 2019 guidance is for revenue between $4.5bn and $5.3bn.
We're sure Qualcomm would prefer it differently, but really only three aspects of the business attracted much attention: Its lawsuit with Apple, its regulatory challenges, and the advent of 5G.
Qualcomm's main regulatory issue at the moment is its tussle with Uncle Sam's Federal Trade Commission, for which Judge Lucy Koh made a partial summary judgment earlier this week.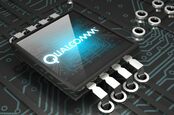 Setback for Qualcomm: It has to license modem tech to competitors
READ MORE
Mollenkopf said regardless of that judgment, the Snapdragon giant will continue trying to come to a settlement with the FTC, but if it cannot, it hopes to have Judge Koh's decision overturned in full trial.
The company also hopes that as 2019 progresses, its lawsuits will draw to a close, which will make life millions of dollars cheaper. That's already starting to show up in QTL's costs, CFO George Davis said during the earnings call.
5G is important to its growth plans, with launches expected in the second half of 2019. However, Davis said, volume won't ramp up until 2020, when consumer devices begin to ship in earnest.
Qualcomm's hope in 5G is to increase "adjacency" – that is, having persuaded an OEM to base a product on a Snapdragon chipset, its designers will also take radio front-ends for different air interfaces, from sub-gigahertz through to millimeter-wave.
Mollenkopf said the company expects double-digit front-end RF device growth in 2019.
The automotive business is another highlight, with a "pipeline of up to $5 bn" in telematics, infotainment, and in-car networking. ®