This article is more than 1 year old
Brit tech buys frozen, but CGI can't wait to get integrating all those post-Brexit systems
Oh, and Gartner publishes spending prognosis for life after the EU
Systems integrator CGI has warned that British customers are starting to put their tech purchases on ice as the Brexit looms into view, but that doesn't mean it won't be able to exploit the situation.
The Canadian-based outfit, which took over Logica CMG in a £1.7bn transaction in 2012, confirmed the shift in buying habits during a conference call for the group's Q4 of fiscal '18 ended 30 September (PDF).
The UK arm turned over $329.3m for the three months, up 11.9 per cent year-on-year, helped by a currency exchange rate tailwind. In constant currency, sales were up 7.5 per cent. So far so good.
Bookings in the UK for the entire year stood at 117.3 per cent of sales but management admitted things slowed in the final quarter of the financial year.
"Bookings in the quarter were lower at 74 per cent of revenue, reflective of the temporary slowdown in procurement decisions as the Brexit deadline nears," said CGI chief operating officer George Schindler on an earnings call with analysts.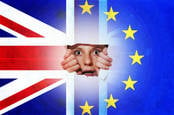 Softcat warns of Brexit cloud forming over UK tech, vows: If prices rise, we'll pass them on...
READ MORE
The UK's exit from the European Union, however, is viewed as a big opportunity by CGI and no doubt other integrators and consultants looking for paydays after the 29 March split date.
"Given our significant public sector positioning, we continue to be optimistic about a post-Brexit upside as government clients implement sovereign programme changes," Schindler added. "And despite the uncertainty of Brexit, we are seeing global commercial clients moving forward with larger IT investments."
Gartner today said it expects enterprise tech spending in the UK to dip 1.9 per cent year-on-year to $204bn in 2019 and described Brexit as having a "dampening effect on IT spending".
"The UK is not expected to exhibit growth above 2 per cent until 2020, which is having a downward effect on EMEA IT spending average," said John Lovelock, research vice president and chief forecaster at Gartner.
This outlook is less rosy than Forrester, which weeks ago told us it estimates enterprise tech spending to slip 0.5 per cent this year and 0.4 per cent next. It said that one third of 600 companies it spoke to said there were going to cut budgets.
The UK government and EU negotiators have yet to finalise a trade agreement, and failure to do so could result in the British economy sinking into a deep recession, tech vendors were warned at the Canalys Channels Forum EMEA in Barcelona last month. ®