A 43-year-old fella has been sentenced to six and a half years in prison for attempted murder – after sending a bomb to a British cryptocoin firm over its failure to reset his account password.
According to London's Metropolitan Police Counter Terrorism Command, Jermu Michael Salonen, a resident of Gullspång, Sweden, sent a functional explosive device in a padded envelope to two employees at Cryptopay, a digital currency service provider.
In March 2018, a man working at the upstart's Hackney office block began opening the package but became suspicious and alerted authorities. Bomb experts then defused the device, and the Met's terror cops stepped in.
The plod determined the package had been delivered to the office block back in November 2017, before Cryptopay had moved in, and sat unopened for five months.
An accounting firm used by the company was located there at the time, so the address was probably picked by Salonen thinking Cryptopay was located there; in reality, the biz wouldn't move in until later. The package was addressed to Cryptopay staff.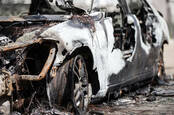 Bloke 'lobbed molotov cocktails' at Street View car because Google was 'watching him'
READ MORE
British investigators recovered DNA from the package and, unable to find a match in UK databases, turned to Interpol for help. Swedish authorities found the DNA matched Salonen, and they arrested him on May 12 this year. He was accused of attempting to bomb Cryptopay, and for sending threatening letters to individuals in Sweden and the UK. One of these letters included a white powder that turned out to be harmless.
Following Salonen's arrest, flatfoots from Sweden and the UK found bomb components at Salonen's residence.
The Met Police, however, could come up with only one plausible motive: Salonen, a customer of Cryptopay, tried to get the company to reset his password, but was refused because the request violated the company's privacy policy.
In a statement today, Commander Clarke Jarrett, head of the Met Police Counter Terrorism Command, said, "Salonen seemingly made and sent a device that had the capability to seriously harm and even kill over something as inconsequential as a change of password.
"Fortunately the bomb did not detonate. It was due to sheer luck that the recipient ripped opened the package in the middle rather than using the envelope flap which would have activated the device."
On Friday this week, Salonen was found guilty of attempted murder, and for sending a number of malicious letters, and sent down by a judge in Stockholm.
The Register asked Cryptopay about this. A spokesperson in an email explained, "[Salonen] contacted our support and we gave him the link to reset his password. He then asked if our team (a support agent) could do it, which we are not able to do."
Crytopay via Twitter on Friday advised customers to try its password reset process rather than send a bomb... ®
Forgot your password? No problem. pic.twitter.com/dgVWY6CogP

— Cryptopay (@cryptopay) November 9, 2018