The pressures the NHS in England and Wales is under, with creaking IT systems that aren't fit for purpose but which are facing the increasing tightening of purse-strings, have been laid bare in two reports.
NHS outages KO Welsh GP services and Manchester A&E
READ MORE
The first is an assessment of the NHS Wales Informatics Service (NWIS), launched in 2003 to integrate IT systems across the nation, a core part of which was digitising patient records for Wales.
Fifteen years later, the results are not good: there isn't a seamless electronic patient records system, but there are regular system outages, spiralling costs and senior managers in denial.
The report, from the National Assembly's Public Account Committee, is scathing about almost every part of the project – right down to the name. "The fact that NHS Wales still refers to its digital programme as 'Informatics' is emblematic of how dated its approach is."
The committee said it was "anxious that our scrutiny has merely scratched the surface", as every time they looked at one problem, another equally serious one appeared elsewhere.
Resilience was a major concern: in the first six months of 2018, there were 21 outages – that's an average of one every nine days. Some of the infrastructure in the NHS's data centres is reported to be more than seven years old, with upgrade costs put at £5.5m to £6m. The committee said there was a concern this would be "throwing good money after bad" when the alternative was moving to a modern cloud infrastructure.
One system, CaNISC, which is used to track cancer patients, is based on software that hasn't been supported by Microsoft since 2014. It was down for three days in August, during which time one cancer centre said blood results were unavailable, meaning one patient didn't receive chemotherapy and there was a delay in radiotherapy treatment for eight others. Despite it being "obsolete and at risk of cyber-attacks", a replacement hasn't been found.
Management and processes also came under fire. There were reports of delays in producing reports on incidents and a lack of clarity about lines of accountability, while senior leaders seemed to be in denial of the issues.
These managers issued "overly positive" reports about progress, describing NWIS as "world leading", despite projects running behind schedule – or, in some cases, only running to schedule because the schedule was changed.
"We discovered a culture of self-censorship and denial amongst those charged with taking the agenda forward – in NWIS itself, as well as its partners in the health boards and the Welsh Government," the report said.
The committee acknowledged that funding was a major issue, with NWIS faced with an almost impossible balancing task of sustaining infrastructure while under pressure to deliver new systems. But this means NWIS allocates just 10 per cent of its budget to innovation, and "considerably more to repairing and maintaining systems long past their sell by date".
The estimated cost of delivering on the aims was set at £484m on top of existing budgets, but the committee warned that any extra funding should be tied to reorganisation.
"NWIS is currently overstretched and improvement requires far more than simply pouring more money into the existing organisation, which is unlikely to achieve significantly different results," the committee said.
Outpatient services urgently need tech to take the pressure
Meanwhile in England, a report from the Royal College of Physicians (RCP) paints a bleak picture of an outpatient system that is unable to cope. Clinicians are frustrated by pressures of overbooked clinics, patients face long waits and poor communications. There are also knock-on effects elsewhere, with 5 per cent of road traffic in England reportedly NHS-related.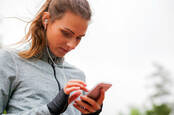 Londoners: Ready to swap your GP for an NHS vid doc app?
READ MORE
A failure to adopt new technology annoys patients, the RCP said, as they have to deal with rushed face-to-face appointments, and getting a diagnosis can mean several weeks of return visits.
The RCP set out a number of alternatives for outpatient services, such as telephone or video-link appointments, or apps – some of which have already run into controversy – for assessing whether patients need to come in.
Other options include remote monitoring – allowing people to submit personalised data, such as step counters for cardiac patients, through patient portals, or video or audio recordings of consultations to allow patients to review it later.
The report noted hesitancy in adopting such approaches due to concerns about local IT infrastructure and support, data protection and patients being less able to use tech. However, the overwhelming message was that the NHS needs to become more digital, quickly, to deal with funding pressures and the ageing population.
Writing the foreword, NHS England medical director Stephen Powis said the health service had to "grasp the nettle" and "harness the power of tech" (such as Skype, apparently) to reduce unnecessary outpatient appointments.
But this is hardly a new idea; the NHS has been trying to sort out its IT systems to take the pressure off other, over-burdened, parts of the health service for years, and report after report called for the same.
Health secretary Matt Hancock last month outlined his new vision for NHS tech – but as anyone who has been around long enough to remember the National Programme For IT will agree, NHS IT needs a lot more than warm words of encouragement. ®