The times, they are a-changin' at flailing ZX Spectrum reboot biz Retro Computers Ltd as two of the firm's original directors have rejoined it – with a furious chairman insisting this is "illegal".
Paul Andrews and founder Chris Smith rejoined the company earlier this week, according to filings made at Companies House that recorded their appointments – which were made with the support of Sinclair Research Ltd, Sir Clive's corporate shareholder in the firm.
This means RCL now has three directors: Andrews and Smith, and chairman David Levy. This is significant because it means Levy, a controversial figure in the Vega+ debacle, which has smacked the Sinclair brand hard, is now outnumbered on his own company's board.
If he is outnumbered, he can be outvoted – meaning RCL's internal accounts and other paperwork can be brought to public light.
It appears that Andrews and Smith, who are both shareholders in RCL, used the firm's shareholder agreement – a legally binding document – to appoint themselves as directors. We understand that each RCL shareholder has the right to appoint one director as their representative.
Regular readers know all too well the saga of RCL's ZX Spectrum Vega+ product, which raised £513k in Indiegogo payments from 4,500 members of the public. The company failed to deliver the handheld gaming console for two years, with rumours going around that the money had instead been spent on legal fees and personal remuneration. A relatively small number of consoles were eventually delivered earlier this year, and in our view were exceptionally poorly designed and manufactured.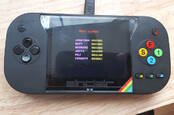 ZX Spectrum Vega+ blows a FUSE: It runs open-source emulator
READ MORE
The RCL Vega+ scandal is an important one because, possibly for the first time, a case involving large sums of money intended for a crowdfunded product is being pursued to the bitter end, instead of everyone walking away and the obvious questions going unanswered.
And the inevitable he-said she-said...
In response to the Companies House filings, Levy sent us a statement accusing Andrews and Smith of acting unlawfully – Levy also claimed that he was the founder of RCL; something seemingly refuted by the firm's earliest filings with Companies House in January 2014: the date of Levy's first recorded involvement with the firm (PDF) appears to be as a director in November 2014.
We have today been made aware that Christopher Smith and Paul Andrews have unlawfully registered themselves as Directors of Retro Computers at Companies House.
They were not appointed by the board. I am the sole director and founder of Retro Computers Limited. Andrews and Smith threatened to take this illegal action at a shareholders meeting last Friday 2nd November 2018, and have done so even though I advised them that it would be illegal. They seek to rely on the company's shareholders agreement which was repudiated at the time of their resignations in April 2016. Christopher Smith has also confirmed via his lawyers that he agrees that the agreement is repudiated and therefore no longer in place.
This conduct is the latest in a long line of abuses which have been designed to bring about the demise of Retro Computers Ltd.
Levy also claimed there is an "ongoing criminal investigation", a claim that we've heard a few times from more than one party during this saga. It was not clear from his statement who is supposedly one under investigation.
In response to Levy, Andrews and Smith sent us their own joint statement in which they revealed that Sinclair Research Ltd appears to be back on their side:
The shareholders meeting of all four shareholders in Retro Computers Limited (that being Sinclair Research Ltd, Paul Andrews, Chris Smith, and David Levy), took place on Friday on 2 November 2018. This meeting was recorded with the consent and knowledge of all parties. Mr Levy confirmed to the shareholders multiple issues with the company which meant we were compelled to act, (and as is our legal right) reinstall ourselves as directors in the company as Mr Levy was either unwilling or unable to carry out the tasks needed to be done unaided.
We will now take all steps required under the law to deal with these company matters.
These reappointments were done with the support of 75% of the shareholders (that being ourselves and Sinclair Research Ltd) and also on the basis of legal counsel being taken from multiple firms.
The two said that Smith had not repudiated the shareholders' agreement, adding that Levy was referring to a different agreement relating to intellectual property: "In fact it is the position of all shareholders (other than David Levy) that the shareholders' agreement has always been in force."
RCL's four shareholders are Andrews, Smith, Levy and Sinclair Research Ltd (SRL). SRL itself has swung back and forth between the two warring camps of Levy and Andrews & Smith, having notably abstained from a key boardroom vote a few months ago. ®