Microsoft has thrown gasoline on its quality-assurance dumpster fire by disabling the Mail and Calendar apps on some of its Lumia Windows 10 Phone devices.
The app hobbling, an awkward second act to Thurday's unplanned downgrade of Windows 10 Pro, appears to be the consequence of what Microsoft charitably calls an update, issued earlier this week.
A Register reader wrote to alert us to the sorry state of affairs. "Microsoft issued an automatic app upgrade for the email client on Windows Phone 10 overnight on 7th/8th November," the reader said.
"We all woke up yesterday morning to find that email is no longer working on the phones. Some of us have reasons to stick with Windows Phone – though not ones we shout about, as we're all a little bit embarrassed – and we rely on our phones for our email as much as the next Apple/Android fanatic."
In various Windows-focused online forums, Microsoft customers are lamenting the unplanned email and calendaring interruption that accompanied the Windows 10 Phone Mail and Calendar update designated 16006.11001.20083.0, which followed Microsoft Store Update 11810.1001.12.0.
Not really a big issue
Microsoft did not sell many Windows 10 Phones last year, when it finally gave up on the project. Consultancy Gartner said that worldwide sales of smartphones running "Other OS," a group that includes Windows Phone, BlackBerry OS, and Symbian OS, captured a mere 0.1 per cent of the market, or 1.5m units, in 2017. Nonetheless, those who cling to Windows Phone devices are not pleased.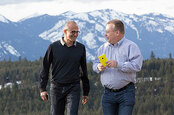 It's been 5 years already, let's gawp at Microsoft and Nokia's bloodbath
READ MORE
The Microsoft Community forum has a lengthy thread on the subject, which at the time this story was filed included more than 150 replies and 233 clicks from users indicating that they have the same problem.
"My Lumia 930 Windows 10 was working perfectly last night and Outlook email/calendar was fine," complained a user posting under the name Joseph Totten. "Today the client will not open and just closes immediately."
The litany of customer complaints can also be found on Windows 10 Forums and similar sites.
Redmond's latest software troubles follow the recall of a Windows 10 software update last month after code deleted people's files and a series of similar snafus, problems that appear to have some relation to Microsoft's decision to get rid of many QA testers in 2014.
The Register asked Microsoft for an explanation. We've not heard back. ®