This article is more than 1 year old
French president Macron insists new regulations needed to protect us all from Facebook's claws
While announcing new pilot project with antisocial network
French president Emmanuel Macron has insisted that new laws are needed to limit and protect online content and the internet itself.
Speaking at the opening ceremony of the annual Internet Governance Forum (IGF) in Paris, Macron made repeated calls for additional regulation, and complained about the "false alternative" of self-regulation or government control.
"If I may be politically incorrect," he told attendees, "there are two kinds of internet emerging: Californian cyberspace and Chinese cyberspace."
The first is where "globally dominant private sectors actors" are left in charge, he said, but while those companies have "a lot going for them" they are "not democratically elected."
His issue with the self-regulatory approach is that it "treats all content as equal" and has resulted in anti-democratic forces using that openness to undermine democracy itself.
"In the name of liberty we've allowed the enemies of liberty to gain prominence casting away everything we've fought long and hard for," he argued. Instead, he said: "We want our values upheld on the internet."
Macron repeatedly criticized the approach and business models of online giants, including repeated implicit references to Facebook. Which made it a little surprising when he used the speech to announce a new program with Facebook where French regulators will "work in conjunction" with the social media giant starting in 2019 to come up with "concrete, tailored proposals to fight hate speech."
Facebook will "host a delegation of French regulators," Macron announced, saying that the approach represents a pilot program that he hopes will end up with a set of best practices that set the "highest possible standards."
He also pushed a new set of principles that the French government has led termed the "Paris Call for Trust and Security in Cyberspace" which describes itself as a "high-level declaration on developing common principles for securing cyberspace."
Misinformation
Returning to his theme, though, Macron complained that the internet has "become a beehive buzzing with disinformation," citing recent attacks in the United States.
"We cannot exonerate those who host this information of all responsibility," he said – a pointed reference to the company whose pilot program he just announced. "They should have their part of responsibility to shoulder – they accelerate dissemination of racist and anti-Semitic speech."
As for the other model – the "strong state model" – that is also flawed, Macron said, because "our democratic preferences vary; we have different cultural stances such as personal freedoms." In a state controlled internet, the state is hegemon, with a dominant influence and authority over everything.
Instead, he argued, there is a better model – where the state works with civil society and the private sector to develop new rules and regulations that protect democratic values. "It is incumbent upon us to regulate the internet and regulate its actors," he argued, adding, "I am convinced there is a pressing need for us internet stakeholders to take charge and to shoulder out share of the responsibility."
If we don't, he argued, we risk undermining the internet itself by ruining trust "in the network as a whole."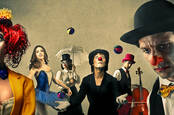 It's time for our annual checkup on the circus that is the Internet Governance Forum
READ MORE
The speech was a significant departure from the normal pleasantries proffered at the Internet Governance Forum (IGF) – an annual forum that was created by the United Nations in 2005 in response to growing governmental concern about the role of the US government in overseeing the internet.
The IGF has been at the heart of global tensions over the internet ever since. The forum has been criticized as little more than a "talking shop" and has repeatedly struggled with funding as a result. Culturally it has adopted a laissez-faire attitude toward the internet, with the idea of regulations or controls strongly resisted.
Macron noted as much during his speech. While stressing again the need for new regulations, he interjected "I already hear murmurs of pushback spread across the room," before ploughing on: "However we believe it is important to regulate in the name of the public good."
He argued that distrust of regulation is "uncalled for" because "there are democratic governments and undemocratic governments and we need to distinguish between them." And he suggested that the IGF itself be a place where all stakeholders came together to draw up recommendations for how to best introduce new rules that defend the "free, open" internet while also making it "secure."
Content problems
He also outlined what he believes should be the focus of such new rules: private data and illicit content.
"Democratic governments need to regulate to protect their citizens… unless we give citizens the right to say what happens with their data, the democratic legitimacy of governments could be called in to question." He rejected the current model where "private interests have more of a right to decide what happen to user data" that the users' themselves.
The second focus – content – is trickier. Everyone can agree that child abuse images and terrorist content should be banned, he noted, but there is a large amount of "illicit" content that goes against democratic norms and different countries' values that need to be controlled.
The fact that the internet is being "increasingly deployed by those on the fringes to spread hate speech" is a "stark reality we must face up to," he argued. Such "undesirable" content includes things like libel and harassment.
And in another pointed comment aimed at Facebook – which consistently peddles the line that it is able to restrict infringing content with the use of artificial intelligence (thereby freeing it from liability) – Macron said that while AI was capable of detecting child abuse images and terrorist content, it is "not ideal for other types of undesirable content."
He also attacked the use of anonymous posting – another issue that receives almost universal support in IGF circles – arguing that while anonymity should continue to allow people to express themselves, it "should not give free reign to terrorists and the like" and he argued for effective collaboration between everyone to combat such anonymous posting.
And finally, Macron came out in full-throated support of copyright rules and the protection of intellectual property rights online, avoiding the issue of bullying IP lawyers from large corporations and painting it as supporting the rights of content creators, particularly journalists.
In yet another dig at Facebook, Macron argued that "the work of journalists creates value and has a price… we should ascribe value and remuneration not just to the platforms that disseminate it."
And he expressed his strong support for a new European "digital tax" that will force companies like Facebook, Apple, Google et al to pay their fair share of taxes in individual European companies rather than use a common tax dodge of registering their European headquarters in a low-tax country – Ireland in most cases – and then funneling all income to that company in order to avoid paying tax.
Odd agrement
The speech received a standing ovation. But given that the IGF is in Paris and the normally staid conference was receiving a speech from a head of state, that does not mean there was universal agreement with his arguments.
Just as with the "hippie manifesto" that Web inventor Tim Berners-Lee announced earlier this month, it was notable who the first people were to align themselves with greater regulations and content controls: the very companies that the regulations are focused on.
Considering that the speech was a teardown of Facebook's entire business model and its failure to restrict damaging content while raking in billions and paying almost no tax, it is somewhat amazing that the company managed to get its announcement of a new – and very vague – program inserted into the middle of it.
Likewise, the moment Macron finished his speech, up popped a Microsoft blog post heralding the speech as a "an important step toward peace and security in the digital world."
Of course you may be suspicious of politicians promising that involving the government in decisions over what their citizens should read is a positive step forward. And equally suspicious of tech companies who immediately praise pointed criticism of their own business models and practices.
But don't be. It's all going to be fine. Absolutely fine. ®