'Frontline workers' of the world, unite! And grab yourselves a Surface Go White Van Man edition
4G version of Microsoft's budget fondleslab road-ready
Microsoft has confirmed that a 4G version of its budget fondleslab, the Surface Go, will ship this month.
The LTE version of the mini convertible 2-in-1 is targeted at "Frontline Workers". Microsoft names insurance loss adjusters and construction project managers as typical use cases. It touted Microsoft's device management and deployment as a advantage over... well, Microsoft didn't say. But it's keenly aware of Chromebooks migrating from education into the field.
To drive the point relentlessly home, Microsoft illustrated the news illustrating a user working out of the back of a white panel van.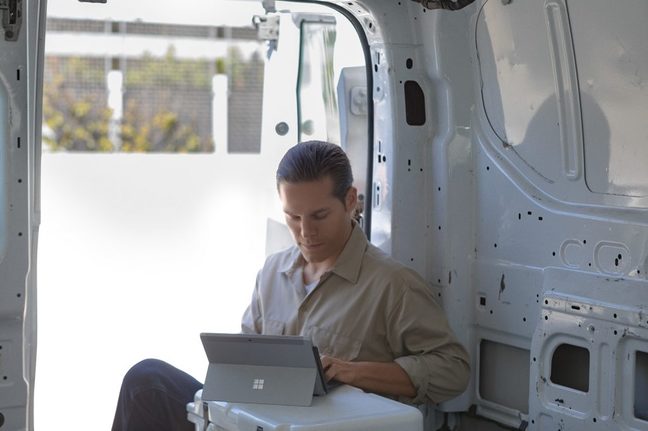 The "Surface Go with LTE Advanced for Business" – to give it its full title – is available for pre-order straight away in the US and the UK, and in 23 markets over the next few months.
Shipments in both launch markets start 23 November.
Naturally there's a premium. Microsoft suggests $679 or $729 as RRPs for consumers and corporate buyers respectively in the US. In the UK, the Surface Go retails at £379 (4GB/64GB) or £509 (8GB/128GB) in the UK, and the LTE version of the latter weighs in at £619.
The slow but well-received tablet is pitched against both Chromebooks (in education) and iPads for professionals. ®