This article is more than 1 year old
When you play the game of storage arrays, you win or you – where are the visionaries?
Gartner's magical square: NetApp, HPE still winning, Infinidat joins leader's box
NetApp has replaced HPE as the leading vendor in Gartner's general purpose drive array magic quadrant as Infinidat makes its first appearance in the top dog square.
General purpose drive arrays are all-disk and hybrid flash storage offering block and file services. They are separate in Gartner's thinking from solid-state arrays (SSAs, otherwise all-flash arrays) and object stores.
The "magic quadrant" is defined by axes labelled "ability to execute" and "completeness of vision", and split into four squares tagged "visionaries", "niche players", "challengers" and "leaders".
As Western Digital has bought Tegile and Tintri was acquired by DDN, one of the four – the visionaries' box – now lies empty.
Gartner's paranormal polygon wranglers said: "The absence of vendors in the Visionary quadrant is a reflection of a vendor and venture capitalist (VC) focus on SSAs, cloud integration, hyperconverged infrastructure (HCI) and artificial intelligence (AI)/machine learning." That's where the market focus and money is.
The 2018 edition looks like this: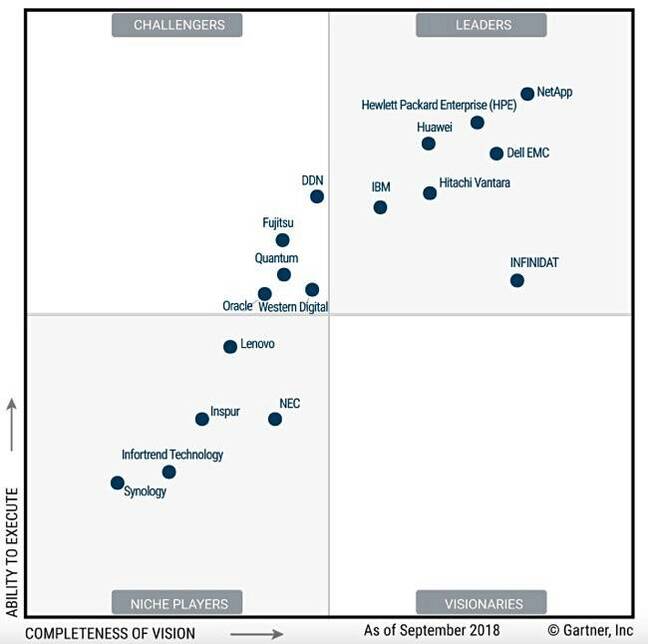 For comparison, the 2017 edition: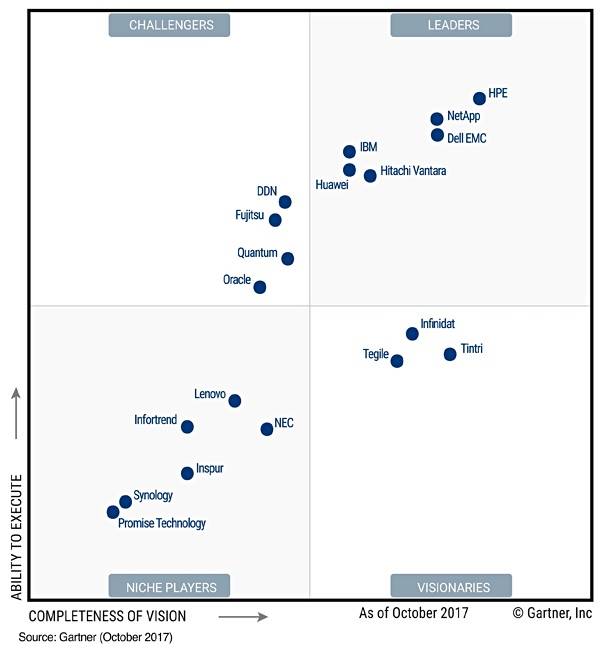 Overlaid, we can see the changes a tad more clearly: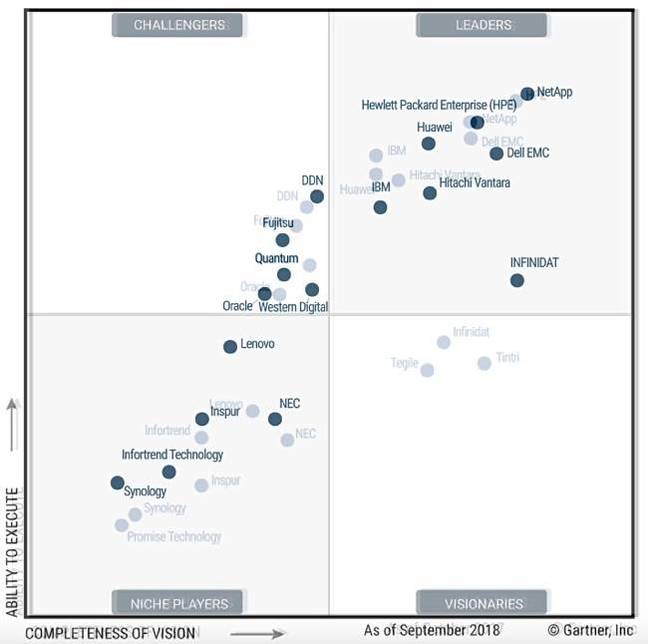 Combined 2017 and 2018 Gartner general purpose drive array MQs.
Huawei has improved its position in that box, moving up and right, as has Hitachi Vantara. Both IBM and Dell EMC have slipped back a little.
Tegile, as Western Digital, is now in the challengers' box as it supposedly now has a higher ability to execute. Promise Technology is no longer present as it has, according to Gartner, changed direction.
The report authors cautioned:
Dell EMC's "better together" strategy, technology-refresh-based product announcements and a slowdown in significant functional enhancements suggest a gradual loss of competitive advantage.
Hitachi's reluctance to compete on price and willingness to "no bid" competitive situations limits its usefulness as an alternative to users dissatisfied with their incumbent storage vendors.
The geopolitical attitude of leaders in some countries may preclude organisations located in those countries from considering Huawei as a viable supplier of general-purpose storage arrays.
Existing XIV customers must plan for migration to alternative platforms, such as A9000R; IBM has announced that the XIV will no longer be actively sold.
Infinidat's lack of 16 Gbit/s and 32 Gbit/s FC and 25 GbitE support is a performance and, potentially, a cost handicap. It will become increasingly important to overcome this when SSAs implement end-to-end NVMe-oF.
Ongoing service and support responsiveness for the ThinkSystem DS Series and Lenovo V Series may suffer as Lenovo transitions to the go-forward enterprise storage portfolio based on NetApp intellectual property (IP).
NEC has had limited success in markets outside Japan, despite aggressive marketing campaigns.
Infinidat asked Gartner why it made the comment about end-to-end NVMe-oF and was told it was because Infinidat competed with SSAs. Our sister publication Blocks and Files thinks Infinidat has NVMe-oF coming.
Throughout this quizzical quadrangle, the Gartnerites mention the spread of analytics-based array management, such as HPE's InfoSight – it is becoming table stakes. ®