Who, Me? The days are drawing in and the mornings are getting darker – so why not take a dose of Who, Me? to help lighten up your day.
In this week's instalment of El Reg's weekly column filled with embarrassing reader cock-ups, we meet "Bert", who was working at a large brewing firm at the point in question.
"I was a junior dev as part of a team putting in a system to track all of their beer barrels in the UK," he told us.
At the time – "ye olde worlde before broadband", as Bert put it – getting through the security system was "a convoluted, long-winded and painfully slow process".
He said it involved two remote sessions using a VPN from Windows 2000 and then a VNC session from the portal server to the database/code server, all over dial-up.
"These were the days when you could see the screen refreshing almost a frame at a time," he said.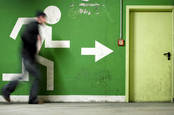 DBA drifts into legend after inventive server convo leaves colleagues fearing for their lives
READ MORE
Anyway, on the day in question, Bert was paying close attention – and possibly thought he could see a way to win some brownie points with the boss.
"Being the diligent bright young thing that I was, I spotted that the SQL database was getting a bit big (think maybe 2 or 3 Gb…), so I figured that, as well as updating the software, I'd free up some disk space," he said.
However, at the time, all the shrink commands Bert knew "didn't seem to do too much", so he had to think outside the box.
"It looked like the 'LDF' file – whatever that was – was eating a lot of space," he told us, recalling the days of his innocent youth.
Well, Bert thought, since it isn't the MDF file ("even an idiot like me knew what that was"), why not just delete it. So he did.
"SQL immediately fell flat on its face, all of the software promptly refused to work and everything curled up its toes and died," Bert summarised of the aftermath of his decision to delete the SQL server log file.
No problem thought our ever-optimistic Bert. "I'll just restore the LDF file… oh, no dice."
He said that, after two hours of "crawling the sad excuse that we now call the internet, over dial-up with a remote session running", he had come up with little more than "You don't wanna do that" (the same sage advice is now available on StackOverflow).
However, Bert ploughed on and, with a combination of brute force, random chance and prayers to a selection of deities, the database came back online.
"As far as I know, nobody ever even noticed, no reports or issues were ever logged and my reputation remained intact," Bert said.
If that heady tale hasn't distracted you from the toils of your Monday, we don't know what will.
But if it has also reminded you of the time you nearly killed your company's database, let us know here. We always anonymise our readers to protect their reputations. ®