What's big, blue, and short on Intel? The supercomputer world's podium: USA tops Top500 with IBM Power9
Arm gets a look-in with first petascale machine, China slips into third
IBM can now officially boast it has built the world's two most powerful publicly known supercomputers.
The Big Blue-powered 144 PFLOPS Summit and 95 PFLOPS Sierra systems took the top two spots, first and second respectively, in the biannual Top500 supercomputing list, beating out the massive Chinese 93 PFLOPS Sunway TaihuLight and 61 PFLOPS Tianhe-2A installations. The Swiss Piz Daint Cray cluster claimed the fifth spot. The numbers were updated on Monday in time for the Supercomputing 2018 conference in Dallas, Texas, which runs this week.
Summit, a system running at the Oak Ridge National Laboratory in the US, took the top spot for the second time after boosting its max LINPACK benchmark from 122.3 to 144 PFLOPS. It is estimated the system could achieve more than 200 PFLOPS if pushed to its peak capacity. Powered by a combination of 22-core 3GHz IBM Power9 processors and NVidia Volta GV100 accelerators, plus Mellanox Infiniband networking, Summit went live at Oak Ridge earlier this year, and entered the Top500 in first place in June. It has a total of 2,397,824 cores, and 2,801,664 GB of RAM. It runs Red Hat Enterprise Linux 7.3.
Sierra, a big-iron beast similarly based on IBM's Power9 CPUs, Nvidia Volta GV100 GPUs, and Mellanox EDR Infiniband interconnects, is housed at the Livermore National Lab in California. It has 1,572,480 IBM Power9 cores, running at 3GHz in 22-core packages, and 1,382,400 GB of RAM. It also runs Red Hat Enterprise Linux, and entered the Top500 in June in third place, now rising to second place after boosting its benchmark score from 72 to 95 PFLOPS.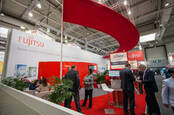 Heads up: Fujitsu tips its hand to reveal exascale Arm supercomputer processor – the A64FX
READ MORE
China's Sunway TaihuLight cluster in Wuxi, its 93 TFLOPS score, is now third in the rankings, followed by another Chinese cluster, the Tianhe-2A system at the National Super Computer Center in Guangzhou.
Tianhe-2A is also the most powerful Intel-based cluster in the world. Despite not having one of the three most powerful clusters in the world (TaihuLight uses RISC-based Sunway processors), Chipzilla remains the brand of choice for more than 95 per cent of the systems on the Top500.
Interestingly enough, there is an AMD Epyc-based system, debuting at 38th place: China's Sugon TC8600, powered by 32-core 2GHz Hygon Dhyana CPUs that are licensed clones of the Epyc 7501.
The Arm architecture made its debut on the Top500: the 125,000-core Astra beast at New Mexico's Sandia Labs came in at number 203. The HPE-built machine uses Cavium ThunderX2 chips to top out at 1.5 PLOPS, marking Arm's entry into the petascale world.
Nvidia was also well-represented in the rankings, as the GPU vendor saw its chips accelerate 122 of the 500 clusters on the list.
For the fifth time, the most powerful UK supercomputer was the Cray XC40 installation at the Meteorological Office in Exeter. Coming in at 23rd overall, the machine has more than 241,000 Intel Xeon-E5 cores and a maximum benchmark of 7 PFLOPS. ®