This article is more than 1 year old
France: Let's make the internet safer. America, Russia, China: Let's go with 'no' on that
Big names missing from 'Paris Call for Trust and Security in Cyberspace'
America has aligned with China and Russia to scupper a France-led initiative to improve the internet's security. However, French president Emmanuel Macron has promised to battle on.
World leaders were meeting in France for the Paris Peace Forum, where French President Emmanuel Macron used the Internet Governance Forum to announce the "Paris Call for Trust and Security in Cyberspace".
Macron outlined proposals that would set down rules for engagement for using "cyber-weapons," along with better cooperation on fending off attacks, and ways to handle foreign interference in elections, online censorship and hate speech.
The call was supported by 51 countries, including almost all European Union members, as well as vendor heavyweights such as Facebook, Google, Microsoft, Unisys, and the signatories of the Cybersecurity Tech Accord, adding Github, Cisco, Juniper Networks and plenty of others to the list.
There are 370 signatories, in all (in French, here), including Germany, and Japan. Australia is a notable exception from the list, although its Five Eyes partners the UK, Canada, and New Zealand have joined.
As well as tech, corporate support for the accord included major financial firms such as Citigroup, Mastercard, Visa, and Deutsche Bank; major industrials like Nestle, Lufthansa and Schneider Electric; and more than 100 non-governmental organisations.
Key aspects of the Paris Call included:
Applying international law to cyberspace, with a particular focus on humanitarian and human rights law.
Strengthening "cyber-hygiene" through better products and services (although, as Access Now noted, without making specific reference to encryption).
Protecting the accessibility and integrity of the internet.
Combatting intellectual property violations.
A crackdown on "online mercenary activities and offensive action" by non-state actors.
A commitment to strengthening international standards.
Macron said he will keep trying to bring the US back on board.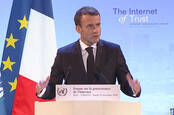 French president Macron insists new regulations needed to protect us all from Facebook's claws
READ MORE
Microsoft president Brad Smith maintained his support for the call, however, blogging the details of his own speech to the Paris Peace Forum here.
He wrote that governments, companies, and civil society need to work together: "That is the only effective way to protect people from what at times have become military-grade cybersecurity threats."
Smith added that the Microsoft-led Digital Peace Now petition has attracted 100,000 signatures from 130 countries.
Microsoft had previously worked with ISOC and the governments of The Netherlands, France and Singapore on the Global Commission on the Stability of Cyberspace (GCSC), also with the aim of putting some constraints around how cyberspace is weaponised. ®