Big Q. Tch, what could have persuaded Intel to bring forward 5G chip production six months?
Clue's in the headline. And more importantly: Will anyone but Cupertino care?
It looks as though Apple's iThings may get 5G connectivity in 2020 – after Intel promised production of its 5G modem will start in the second half of 2019, and ship in the first half of the following year.
This, therefore, gives Apple, which prefers Intel cellular modems for its latest iPhones, a decent design-in time for future smartphones.
Whether influenced by demands from Cupertino, or the fact that it's running months behind Qualcomm, Intel said it has brought forward the 5G chip plans by six months.
Chipzilla says its XMM 8160 5G modem will operate at peak speeds of 6 Gbps – after all, higher download speeds are the point of 5G – and it will support 5G New Radio operation in standalone and non-standalone modes, as well as giving backwards compatability all the way back to 2G in the same chipset.
Intel's big pitch point for the device was its multimode operation, meaning 5G and legacy radio operation are handled by one chip rather than OEMs having to use two devices. This would make it easier for designers to make smaller systems, and saves on power.
The chip will have frequency-division duplex (FDD) and time-division duplex (TDD) support in the 600 MHz to 6 GHz bands, and support for millimetre-wave bands.
Intel's announcement on Monday said folks should see "phones, PCs and broadband access devices" carrying the XMM 8160 5G modem in the first half of 2020.
This component is likely to supersede the XMM 8060 modem that was promised for mid-2019. It's likely the 8060 just wasn't quite good enough versus its Qualcomm rivals, so Intel's hauled forward the 8160 to take its place.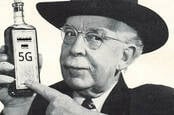 What can I say about this 5G elixir? Try it on steaks! Cleans nylons! It's made for the home! The office! On fruits!
READ MORE
The new launch date for the XMM 8160 still leaves Intel running behind Qualcomm. In February, Qualy boasted it was working with most of the big names in the phone business, including Sharp, Sony, Xiaomi, ZTE, Oppo and Nokia-in-name-only. The chip-maker is also besties with Facebook in its 5G plans for Terragraph, and has demonstrated 5G capabilities with Samsung.
In the company's press release, Intel veep Dr Cormac Conroy said the accelerated timing is all about demand: "We are seeing great demand for the advanced feature set of the XMM 8160, such that we made a strategic decision to pull in the launch of this modem by half a year to deliver a leading 5G solution." So, Apple's been on the phone, then.
Intel could, we suppose, have an easier time getting tablet-makers to chip units with its 5G chips. ®