This article is more than 1 year old
Scumbag who phoned in a Call of Duty 'swatting' that ended in death pleads guilty to dozens of criminal charges
Another pair awaiting trial over slaying of Andrew Finch
One of three people charged over the December 2017 "swatting" death of 28-year-old Andrew Finch in the US has pleaded guilty.
Tyler Barriss, 25, was indicted in May for making a bogus 911 call to police in Wichita, Kansas, urging officers to send out a SWAT team. As a result, on December 28, the cops showed up outside Finch's home, and shot and killed him.
The root cause of the dispute? A couple of $1.50 bets on an online game of Call of Duty World War II, which apparently started an argument between two other people charged in the case: Casey Viner and Shane Gaskill.
It is claimed that during the pair's blowup, Viner threatened to call 911 and get a SWAT team sent out to bust Gaskill, who dared Viner to go through with it. Gaskill then gave Viner an address he no longer lived at, it is alleged.
Finch had the bad fortune to occupy Gaskill's old address with his family – and had nothing to do with the CoD WWII bet that cost him his life.
Viner talked Barriss into placing the call to police and stating the address given by Gaskill, it is alleged. While pretending to be Gaskill, Barriss told the 911 dispatcher that he had shot his own father, and was holding his mother and brother hostage, too.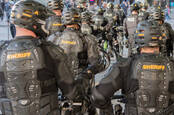 Trio indicted after police SWAT prank call leads to cops killing bloke
READ MORE
When police surrounded Finch's home, he didn't know about the swatting call, and hadn't done anything wrong – so he went outside to find out why officers were swarming the place. He was shot and killed when he unexpectedly dropped his hands after being told to put them up, according to the cops.
Announcing the guilty plea on Tuesday this week, US attorney Stephen McAllister said the crime could send Barriss to jail for 20 years. Specifically, Barriss, of Los Angeles, California, admitted making a false report resulting in Finch's death, plus cyberstalking, and conspiracy.
McAllister said: "Without ever stepping foot in Wichita, the defendant created a chaotic situation that quickly turned from dangerous to deadly. His reasons were trivial and his disregard for the safety of other people was staggering."
As well as 'fessing up in the Wichita case, Barriss entered guilty pleas to a staggering 46 counts brought by the Middle District of California, over false bomb threats all over the USA, and in the District of Colombia for making false bomb threats against the FBI and the FCC.
Barriss will be sentenced on January 30, 2019, while Viner, 18, of Ohio, and Gaskill, 20, of Kansas, are still awaiting trial after denying any wrongdoing. ®