Samsung unveils next-generation 8nm Exynos silicon
It's pop-AI but tailored, fans
---
Samsung has unveiled the next-gen chips that will power its smartphones and tablets (and crypto-miners). And it hopes others will use them too.
The Exynos 9 has been built on Samsung's own 8nm fabrication processes, and the first two chips in the series are the 9810 and 9820.
The latter has a 2x4 core, with two fast (Cortex A-75) and four background (Cortex A-55) Arm cores at its heart.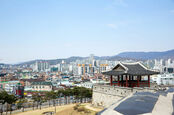 Make Sammy Great Again: Surprise – Samsung chucks cash at manufacturing
READ MORE
Then there are another two custom cores incorporating several features – an integrated LTE modem capable of 2Gbit/s (Category 20 with 4x4 MIMO support) and a Mali-G76 GPU.
The new chip can process 8K video at 30fps. Samsung introduced 8K tellies this year. 4K UHD video is now captured at 150fps. The GPU can drive up to a 4K UHD (4096 x 2160) display.
Of more interest to professionals is the PUF (physically unclonable function) security zone for crypto-key storage, something typically found in smartcards or specialist silicon, usually FPGAs. Each PUF has a unique identifier. Samsung has previously built a PUF into its IoT chips such as the i T200.
And inevitably there's a "Neural Processing Unit" because... because artificial intelligence.
Samsung said a scheduler improves performance by 15 per cent over the current generation Exynos 9810, and 15 per cent lower power consumption than the 10nm chips – more when playing games.
Unlike its major rivals in mobile chip design, Samsung has its own fabs. TMSC, which fabs Apple and Huawei designs, uses 7nm processes. Huawei tipped its hand here. Qualcomm currently uses Samsung's 10nm fab process and factories.
The semiconductor division, which reportedly wants to license the chips more widely, has done well this year, despite a flat or declining global smartphone market. It credits crypto-miners for a 20 per cent increase in chip sales.
Production of the Exynos 9 will ramp by the end of the year. ®
Similar topics
Narrower topics