Panasas tells world+dog: We've broken free from chains of proprietary kit
HPC pusher bats eyelids at OEM flingers after biggest product refresh in a while
HPC supplier Panasas has introduced a faster file system and non-proprietary hardware design in its biggest product refresh for a decade or more.
Panasas's hardware is branded ActiveStor with ASD-100 Director and AS Hybrid 100 storage enclosures. The ActiveStor 100 Hybrid and Director system is now called an ActiveStor Prime system, and there is a new ActiveStor Ultra system, composed of a Director and storage enclosures.
Previous ActiveStor 18 and ActiveStor 20 products are called ActiveStor Classic.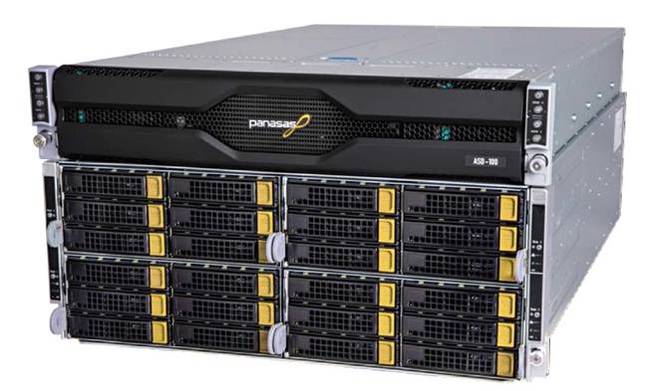 ActiveStor Ultra with Director enclosure on top and storage enclosures below
ActiveStor Prime is delivered with integrated dual 10GbitE networking and external InfiniBand via an InfiniBand router. ActiveStor Ultra uses industry-standard hardware with no proprietary elements, meaning that the ActiveStor software is now, in theory, portable to third-party hardware.
Jim Donovan, chief marketing officer, said: "It gives us the opportunity to port PanFS to other companies' hardware. That's the potential. We're not announcing any OEM deals at the moment."
The 2U Director enclosure has four nodes, each with an E5-1630v4 Broadwell CPU, providing higher metadata and gateway performance than before, a 500GB SSD for local storage, NVDIMM transaction logging, the latest FreeBSD O/S, NIC drivers and 2x40/4x10 GbitE Chelsio NICs.
The storage nodes, four per 4U shelf, each contain an Intel CPU along with network links, HDDs, SATA and NVMe SSDs.
Panasas's PanFS v8.0 software has had a clean-sheet redesign with separation of metadata, small files, and large files for increased performance. It has been ported to Linux to leverage industry-standard hardware, drivers, storage software and databases.
The software provides automatic integration of new nodes, recovery from node or drive failure, capacity balancing and scrubbing. Tuning and retuning with workload changes is also automatic. It supports ActiveStor Ultra, Prime and Classic hardware.
Donovan claimed the automation features make it simpler to use than either Lustre or Spectrum Scale (GPFS).
PanFS layers POSIX semantics over a massively parallel and scalable pool of objects. It features the DirectFlow parallel data access protocol, and V8 uses caching and three-tier data placement on NVMe SSDs, SATA SSDs and HDDs; the NVMe SSD tier being new.
Metadata is stored in a dedicated database on low-latency NVMe SSDs. Small files, which are an IOPS-intensive workload, are stored on SATA SSDs while large files, representing a bandwidth-oriented workload, are held on SATA disk drives.
| | | | |
| --- | --- | --- | --- |
| Config Options | HDDs | SATA SSD | NVMe SSD |
| Drives | 6-8 x 4, 8, 12TB | 0-2 x 2, 4TB | 1 x 2TB |
| Capacity/Node | 24-72TB | 0-8TB | 2TB |
| Capacity/4U Shelf | 96-288TB | 0-32TB | 8TB |
Files are accessed in parallel and with distributed erasure coding based data protection. There is a choice of Ethernet, InfiniBand and Intel Omni-Path network links, with different price/performance configurations to choose from.
An ActiveStor Prime offers 1.5GB/sec performance while the Ultra provides 6-7.5GB/sec per 4U enclosure, meaning up to 75GB/sec per rack. Panasas said performance and capacity scale linearly without limitations as more racks are added.
ActiveStor Prime, Ultra and Classic systems can be intermixed in a single overall system, which is called a Panasas realm.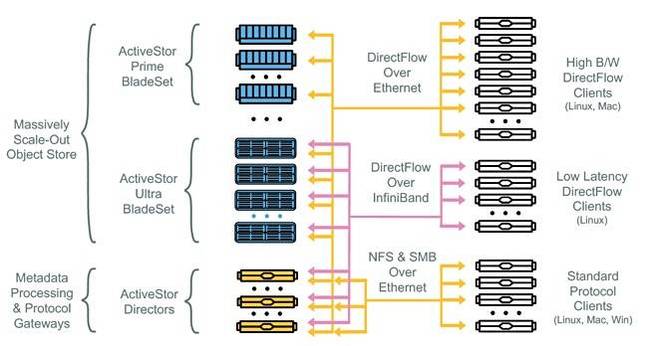 Single Realm with ActiveStor Prime and Ultra
The minimum required configuration for ActiveStor Ultra is three Ultra storage enclosures (to be efficient when striping files across storage nodes) and one ActiveStor Director with four nodes.
The minimum recommended configuration for faster reconstruction performance in case of drive failures is four Ultra enclosures and one ActiveStor Director with four nodes.
ActiveStor Ultra will be available in early 2019, with InfiniBand and Ethernet networking. Omni-Path is coming soon. ®