This article is more than 1 year old
Oracle's JEDI mind-meld doesn't work on Uncle Sam's auditors: These are not the govt droids you are looking for
Federation snubs Larry Ellison's bid to break up $10bn winner-takes-all contract
Oracle's bid to halt the Pentagon's JEDI $10bn winner-takes-all cloud IT contract has been turned down.
Uncle Sam's Government Accountability Office (GAO) issued a statement on Wednesday explaining that it would not be taking up Oracle's appeal of the US Department of Defense's stipulation that the entire JEDI technology platform be limited to a single supplier.
Considered one of the most lucrative and sought-after government contracts in recent memory, JEDI (Joint Enterprise Defense Infrastructure) will award the winning contractor a $10bn decade-long contract to overhaul the DoD's entire IT infrastructure.
Oracle has been fighting to overturn a stipulation in the DoD's request for proposal that states one lucky contractor would have to provide all parts of the deal. Chiefly, Oracle – let's make that clear, Oracle – thinks locking an agency into a single legacy vendor is a bad idea in terms of innovation and security. Secretly, we think, Oracle doesn't want to risk losing it all to Microsoft or Amazon, so in all, Oracle thinks JEDI is a bad idea for Oracle.
Oracle and others also complained that, because JEDI is such a massive project, the one-vendor stipulation means that only huge companies, such as Amazon and Microsoft, can fill it, whereas if it were broken up Oracle would have a fighting chance over the pieces. Oracle had also argued that AWS may have had a hand in crafting the requirement, creating a conflict of interest.
Both arguments were shot down by the GAO on Wednesday.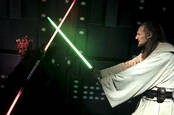 US JEDI military cloud network is so high-tech, bidders will have to submit their proposals by hand, on DVD
READ MORE
"GAO's decision concludes that the Defense Department's decision to pursue a single-award approach to obtain these cloud services is consistent with applicable statutes (and regulations) because the agency reasonably determined that a single-award approach is in the government's best interests for various reasons, including national security concerns, as the statute allows," the office said.
"GAO's decision also concludes that the Defense Department provided reasonable support for all of the solicitation provisions that Oracle contended exceeded the agency's needs. Finally, GAO's decision concludes that the allegations regarding conflicts of interest do not provide a basis for sustaining Oracle's protest."
In a statement to The Register Big Red expressed its displeasure at the ruling:
Oracle believes that both the warfighter and the taxpayer benefit most from a rigorous and truly competitive process.
Oracle's JEDI bid represents a forward-thinking, next generation cloud focused on security, performance, and autonomy and a move away from the legacy cloud infrastructure that seems to be favored in the RFP. We are convinced that if given the opportunity to compete, DoD would choose Oracle Cloud Infrastructure for a very substantial portion of its workloads because OCI delivers the best, most performant and most secure product available at the best price.
The decision does not mean the JEDI process is in the clear. IBM has filed a similar protest objecting to the contract's bidding and procurement process. The GAO says that it will be handling those filings separately, with a decision on the IBM appeal due to be delivered by January 18. ®