Red Hat used this week's OpenStack Summit to announce the impending arrival of its OpenStack Platform 14. We had a chat with Red Hat's Nick Barcet about cadence, Kubernetes, and most definitely not IBM.
It's been a while coming, but Red Hat has taken the latest OpenStack release, Rocky, and folded it into its OpenStack Platform, with version 14 due to hit a waiting world in the next few weeks.
The goal of Red Hat's take is, as ever, to make life easier for admins tasked with setting up the occasionally challenging OpenStack platform. Simplifying cloud-native application adoption and getting containers on bare metal is the name of the game here.
OpenShift, of course, gets a look-in as well as Red Hat continues to tightly integrate the container platform with OpenStack to bring more Kubernetes-based goodness to the party. Red Hat has pointed to Gartner research which claimed that 75 per cent of organisations will have either a multi-cloud or hybrid environment by 2020, meaning that OpenStack's private cloud infrastructure is likely to play a part. And Red Hat would be very happy to help set that up for you, for a fee.
As recognised by OpenStack itself, infrastructure is the thing. Red Hat's OpenStack Platform 14 can automatically provision bare metal for those containers that need it or virtual infrastructure for those that don't. OpenStack's load balancer services assist with container-based workloads, and the project's object storage fulfils host container registry duties.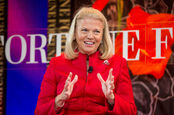 Official: IBM to gobble Red Hat for $34bn – yes, the enterprise Linux biz
READ MORE
Red Hat has done more work to integrate the product with Ansible Automation, which it hopes will make deployment easier including previewing what an OpenStack Platform deployment will look like before hitting go.
Red Hat's Nick Barcet is keen to point out that the company has worked hard on the upgrade process. He told The Register the Linux specialist's Fast Forward process had seen customers making the jump from version 10 to 13 without impacting production. He also reckoned that every server on OpenStack should get five years support. Anything after that would be an exception and require a difficult conversation.
The upgrade toolset, said Barcet, means Red Hat could now update its platform more frequently. A personal pet peeve of Barcet's is the six-monthly release cycle of OpenStack. Four times a year would suit him better, although he stressed that isn't necessarily Red Hat's position.
Probably shouldn't have said it on stage with a Red Hat background behind you then, Nick.
Barcet doesn't expect every customer to upgrade at such a pace and pointed out: "I want people to distinguish what is a development cycle from what is an upgrade cycle." He's aware that many customers are unable to upgrade more than once every 12 or 18 months, and many will stick with earlier generations unless they need the latest and greatest toys.
As for the open infrastructure being talked up by the OpenStack Foundation, Barcet reckoned it is more about education: "I think the rebranding is just to signal to the public that their vision of OpenStack equals their virtualization solution is wrong.
"OpenStack is really an infrastructure management, a software data centre solution. And we need to make it more obvious to future users that it is what is sold. And you can absolutely use most of the stack project to manage an infrastructure without ever using VMs."
With OpenStack Platform 14, Red Hat has performed a reorganisation, making Kubernetes, OpenShift, OpenStack and Virtualization all part of the same business unit, focused on delivering products that are easier to consume. Barcet concluded: "You can expect more and more integration."
Will that integration have a Big Blue hue to it? On that, Barcet has no comment. ®
Similar topics