Dell melts in face of investor dissent, ups offer for Class V stock
Guess what happens? Stockholders thaw to idea of cashing in
Dell Technologies has upped the buy price for Class V stock to win support from shareholders that threatened to block the proposed transaction and hinder the company's return to the US stock market.
The final per share offer is for $120 in cash, subject to an aggregate $14bn cap, or to swap each unit for between 1.5043 and 1.8130 shares of Class C stock in Dell when it lists again.
The previous $109 per share offer – on the table from July – was dismissed by some investors including corporate raider Carl Icahn, who has since vowed to stop the buy saying it low-balled their value and involved the lawyers.
Dell said yesterday the increased offer, which gives Class V investors an additional $2.2bn in aggregate implied value and equates to a total market cap of $23.9bn, is a "result of significant, detailed input" from those shareholders.
"An overwhelming number of shareholders contacted by Dell Technologies supported the revised transaction," said the company in a statement.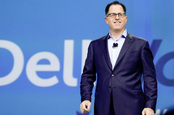 Dell is still a work in progress as it seeks to dominate all data
READ MORE
This includes funds affiliated with Dodge & Cox, Elliot Management, Canyon Partners and Mason Capita Management – which collectively own 17 per cent of the total Class V stock.
"The $5bn increase in the maximum aggregate cash consideration provides those Class V stockholders who would prefer to receive cash with greater value certainty," said Dell, "and increases the ability for stockholders to receive their preferred mix of cash and Class C common stock."
Class V stock, also known by its stock market ticker DVMT, was created in 2016 to help Dell fund its $67bn buy of EMC. It tracks Dell's stake in VMware but, as the FT pointed out, the share swap alternative means it can be viewed as a proxy for the value of Dell.
The level of share swap will be determined by the volume weighted average trading price in the 17 days before shareholders are asked to vote on the proposed transaction on 11 December 2018.
In a statement, Elliott Management partner Jesse Cohn said of the increased offer that shareholders will "receive greater value certainty through the increased cash component and downside protection on the value of the Class C common stock". ®