This article is more than 1 year old
Nvidia just can't grab a break. Revenues up, profit nearly doubles... and stock down 20%
Ongoing Bitcoin woes left the channel holding all the cards, and that's not a good thing
Nvidia has turned in growth in revenue and profit, but has been punished for missing its guidance in the third quarter of its fiscal 2019, all amid a continuing sharp drop in demand from crypto-currency miners.
Its stock fell as much as 20 per cent after it reported on Thursday:
Revenue of $3.18bn, up 21 per cent year-on-year, during the three months to the end of October.
Net income of $1.23bn in that quarter, up 47 per cent year-on-year.
GAAP diluted earnings per share of $1.97, up 48 per cent year-on-year.
Nvidia missed forecasts because of a decline in what was formerly one of its most important growth markets – cryptocurrency mining rigs. With Bitcoin and Ethereum declining in value, big mining rigs are less economic.
As CEO and cofounder Jensen Huang said in the company's media announcement: "Our near-term results reflect excess channel inventory post the crypto-currency boom, which will be corrected."
CFO Colette Kress told analysts on a conference call that GaaP gross margins grew 90 basis points year-on-year, reflecting "our continued shift towards higher-value platforms", but the crypto collapse meant Nvidia suffered a "$57mn charge for prior architecture and chips."
After Kress warned of "very little shipment in the midrange Pascal segment to allow channel inventory to normalize," Huang added it will take another two quarters for the channel to get through that excess inventory.
"This is surely a setback, and I wish we had seen it earlier," he said.
The other impact of the declining crypto business was a decline in licensing from third parties: "OEM and IP revenue" fell 23 per cent to $148 million year-on-year.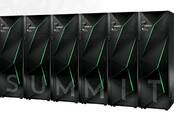 What's big, blue, and short on Intel? The supercomputer world's podium: USA tops Top500 with IBM Power9
READ MORE
Krass added that GPU revenue grew 25 per cent year-on-year to $2.77bn; and Tegra processor revenue was down 3 per cent to $507m. Other market segments look more cheerful, particularly for the Turing GPU series, which Kress said "expanded our addressable market".
As we noted when the latest Top500 supercomputer list landed this week, Nvidia was well-represented in the big iron community.
The company's announcement noted that in the last year, there was "a 48 per cent jump over last year in the number of systems using NVIDIA GPU accelerators, climbing to 127, including the fastest in the world, No 1 in the US, No 1 in Europe and No 1 in Japan".
Data centre revenue for the quarter was $792m, up 58 per cent for the year in a segment where Kress said "demand remains strong."
Looking at data centre and cloud demand for the next quarter, Huang said "Moore's law has ended," but demand for compute continues to grow, and that means data centres have no choice but to keep buying more CPUs to satisfy workloads like AI.
Unless they look to companies like Nvidia for new architectures: "The alternative" to continuing data centre capex "is that the approach we provide is for a path forward beyond Moore's Law." ®