Review What if Huawei used OnePlus's Oxygen UI, I found myself musing recently. Wouldn't it be the perfect package? Huawei's amazing RF performance, and bleeding-edge tech, with a UI that didn't actually suck?
OnePlus avowedly isn't bleeding edge. "It's not high on our agenda to be first with these technologies," an exec told me. But the company's focus on a smooth user experience makes it unique for a Chinese phone maker. That's the most compelling thing about OnePlus phones.
We described the philosophy here as "restrained" and it caught on. It also quite markedly doesn't feel like a Chinese product. You wouldn't know where it had come from. I'd guess Sweden – and that's a compliment.
The formula hasn't changed: omit one or two of the flagship checklist features for something that is fairly future-proof. With the 6T, three out of the big four UK MNOs are selling it. We can safely say it has gone beyond cult to being a firmly mainstream choice. By competing with but undercutting Sony, LG and HTC, OnePlus's prominence can only rise.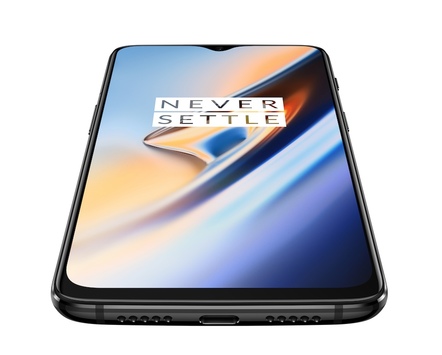 The OnePlus 6T is the second of the two flagships the company releases each year and it is worth considering if you last acquired a 'Droid in 2016 or before. It shouldn't bother buyers of the 6, reviewed here, or probably even either of last year's models, the 5 and 5T.
This T adds one big thing from all its predecessors... and takes one away. Gone is the audio jack. And added is, er, something you've already had on OnePlus phones since 2015: the fingerprint sensor.
You may regard this as a net loss. The fingerprint sensor is an in-display sensor. It's the second phone to come to the UK with such a feature, hot on the heels of Huawei's Mate 20 Pro. It's a little slower to unlock than the conventional fingerprint sensor but if (like me) you find rear-mounted unlocking awkward, it's a win. Otherwise you may be ruing the loss of the jack. Or not. Of the big guns, only Samsung and LG retain this (and Huawei on its workhorse Mate 20), and for audio LG is the clear leader.
But that's part of the OnePlus package too. There isn't a single thing it does better than anyone else, which might otherwise sound damning – but there isn't anything it does terribly either. It's tasteful, very powerful, and the clincher? It's £300-£400 cheaper than a comparable flagship from its rivals.
So what does that get you? The 6T is so similar to its immediate predecessor this is a shorter summary than normal – the imaging unit is the same as the 6, reviewed here.
Design and UI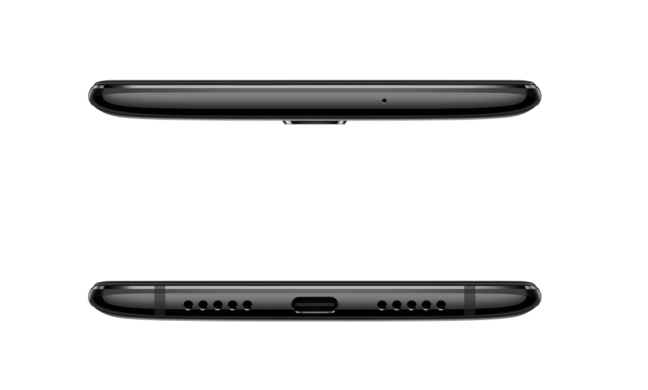 The OnePlus 6T is a tad thicker, 14g heavier, but that and the space vacated by the headphone jack are put to good use. This update, however, packs considerably more power into the body. The 3700mAh battery has a 12 per cent higher capacity than Oneplus's last three phones. The speaker has been moved to the top of the device, and is a little underwhelming again.
It gives you a graceful, well-balanced ringtone, but I'd prefer it to be a bit louder. OnePlus has improved its notoriously soggy haptic feedback, though; it's now on par.
The three-position notifications slider is in its now usual spot at the top right – which is hard to get used to, personally.
I found the under-glass fingerprint sensor to be more hit than miss, but not as accurate or as quick as Huawei's excellent implementation.
The AMOLED display has a slightly higher resolution than before, but retains the same character, at 2,340 pixels tall (over 2,280 in the OnePlus 6). Although it has upgraded to the latest gorilla glass, I found the oleophobic coating to be less effective, and only a few smudges are needed to impair the experience. I found it to be a little tardy responding to changes in ambient light conditions, and sometimes it didn't respond at all. This is something we take for granted these days – you only notice when it sets an inappropriate level.
On the positive side, OnePlus retains the greyscale mode for reading, a small feature unique to its phones that I like a great deal. It comes on automatically for certain apps.
The teardrop notch is actually the first I don't find intrusive so I left it on all the time.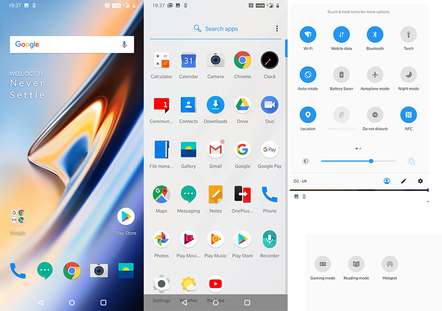 Homescreen and apps
Overall the software is elegant and well designed, with a considerable number of Android annoyances absent. Nagware. Animoji. Bundled crapware. It's clean and tasteful. A good example of restraint is the Panel (below), which has been around for a few years now, but is still simple and functional.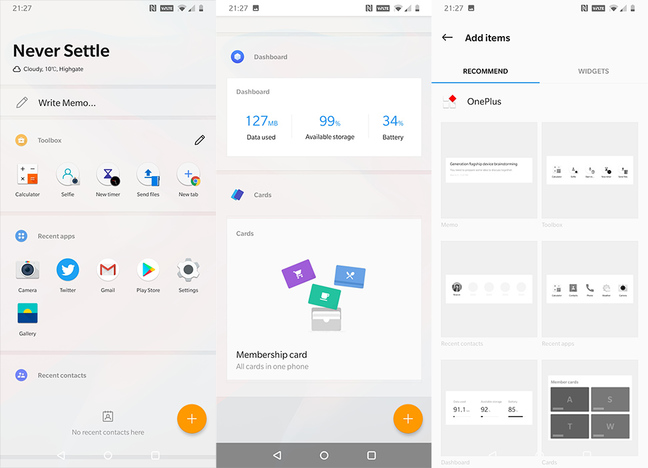 A rare note of disharmony: for the first time I noticed OnePlus throttling apps in a way that impaired the experience.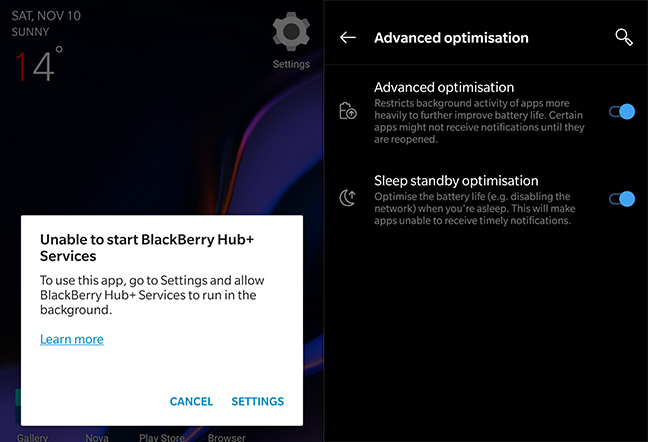 Bad optimiser
BlackBerry Hub Services was considered too thirsty, and was manacled by the power consumption police. Even on the very aggressive background optimisations done by Huawei and Xiaomi, I've never seen this before. Nor are the settings (right) very informative.
As this uses the same SoC (Qualcomm Snapdragon 845) as before, and the battery is bigger, it's a puzzle. Hopefully this is not the start of a trend.
Battery life was excellent – and still pretty good with those optimisations off. This is a dual-SIM phone – OnePlus has never supported expandable storage in its flagships. Callers sounded a bit "soft" to me, and OnePlus rates middling for RF performance: not terrible, but not great. That is to say, it doesn't have the advantage Huawei gives you for incredible RF performance and network reliability, nor Samsung's experience with call quality. But that can be said for most phones.
By the way, I always pester vendors to include cases with review samples, as the case is a big part of the overall experience. They hardly ever do, but OnePlus is an exception. They're very high quality, and the Kevlar one in particular gives it a very durable feel.
Similar topics