Oracle is to slurp up software-defined WAN provider Talari Networks for an undisclosed sum.
Big Red has been trying to bolster its cloud application business, and San Jose-based Talari's tech aims to improve reliability and security of application access over IP networks.
Oracle said the acquisition of Talari, which has more than 500 enterprise customers, would close in this calendar year, and that it would continue to invest in the network biz.
Talari's main product is the SD-WAN technology Failsafe, which claims to add greater reliability and predictability while maintaining security for site-to-site and site-to-cloud connectivity and application access over IP networks.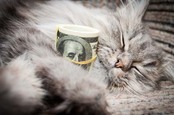 Cisco slurps Viptela to bolster SD-WAN management
READ MORE
A canned statement from the database giant said the acquisition would help "accelerate digital transformation and cloud adoption" by offering customers "complete enterprise network solutions that ensure reliability and performance of real-time communications and mission-critical applications over any network".
Big Red cited (PDF) a fit with its own Session Border Controller (SBC) technology, and promises to continue developing Talari's product set. For now, Talari will maintain its existing account management, support, and sales team.
Oracle's move on Talari comes about 18 months after fellow historic hardware heavyweight Cisco bought out Viptela, whose speciality was pushing SD-WAN management into the cloud.
Meanwhile, Oracle has this week marked another milestone – shareholders signed off on its executive pay packet for the first time since 2012.
Despite CTO Larry Ellison owning about a quarter of the company, shareholders have consistently voted against the Say-on-Pay proposal – which is really mood music for businesses since it's non-binding.
This year, however, the compensation plan received an approval from a majority of stockholders present at the firm's annual meeting, held on 14 November.
The plan, which was announced last year but enacted this year, doles out equity solely based on performance of Oracle's cloud business and market capital.
Unsurprisingly, for the year ended 31 May, none of the top-rung execs – Ellison, co-CEOs Safra Katz and Mark Hurd, and the recently departed cloudy president Thomas Kurian – received their possible equity share.
Elsewhere during the meeting, shareholders once again did Oracle's bidding and voted against proposals that would have required the firm to report on its gender pay gap, political campaigns and lobbying activities. ®