Quantum has stepped sideways into the autonomous vehicle testing market with a data logging system integrated with its StorNext multi-tiered workflow file management product.
Known as an entertainment-and-media and oil-and-gas workflow file management supplier, Quantum's scale-out StorNext hub system supplies and manages files needed for complex and integrated workflows. It provides a single file repository embracing filers, object stores, tape libraries and the public cloud which is integrated with individual applications involved in multi-stage workflows found in movie production and oil/gas field management.
Quantum's Mobile Storage products are aimed at autonomous vehicle testing and provide a way to store bulk data collected during a car test drive, manually transfer it to a garage system and have that feed the data to engineers for analysis.
How it works
Here's a Quantum diagram of what's going on:

We've looked at a datasheet and drawn our own schematic view of what's going on.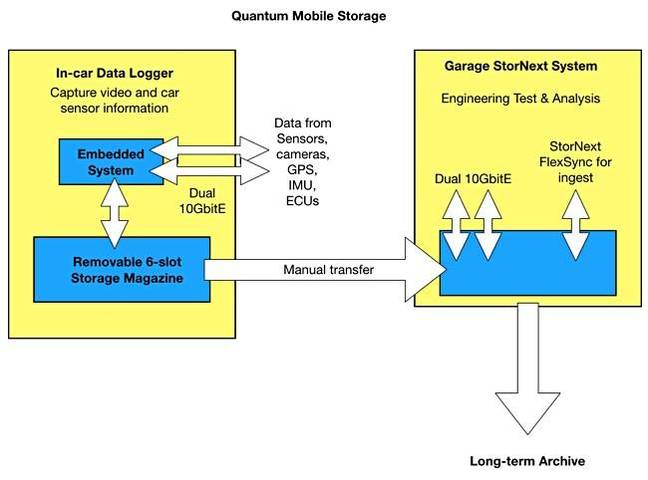 Schematic diagram of Quantum Mobile Storage
Essentially, the in-car system is a rail-mounted chassis with dimensions of 23cm x 13cm x 53cm (9" x 5.25" x 21"). It includes a removable six-bay ruggedised magazine that can hold 60TB of 3.5-inch disk drive capacity or 46TB of SSD capacity.
There is RAID 0, 1, 5, 6 or 10 for protection against data loss and a 12V DC power supply. This chassis has dual 10GbitE ports plus 1x USB, 1x HDMI, and 1x 1 GbitE (management) connectivity.
An embedded server within it runs Ubuntu Linux OS with a pre-loaded NAS stack. Vehicle-based sensors, such as cameras, GPS, IMUs (inertial measurement units), ECUs (electronic control units) and automotive IoT gear feed data to this system continuously during a test drive. It's stored on the drives in the magazine.
On return to the garage, the magazine is removed and inserted into a StorNext system chassis, where the data is ingested using a FlexSync feature, and then made available to engineers for analysis and reporting. It can be archived on StorNext component systems for long-term retention.
The garage StorNext chassis has optional 120V AC power, for garage power requirements, and dual 10 GbitE to support data transfer.
Quantum said its Mobile Storage is designed to be adapted for use beyond vehicle testing, such as mobile security and compliance platforms, video surveillance, public transportation (rolling stock video on trains and buses), shipping, law enforcement, on-set video recording and production.
Wherever the source system is generating data that's too large or impractical for uploading across a network then this in-source system data logger and recorder, with its StorNext base system integration to upstream workflows looks a useful option.
Quantum Mobile Storage will be generally available in early 2019, and is available to quote today. ®