This article is more than 1 year old
Super Micro chief bean counter: Bloomberg's 'unwarranted hardware hacking article' has slowed our server sales
CEO insists Chinese spy chip bombshell 'impossible'
Super Micro Computer on Thursday reported net sales in the range of $952m to $962m for the first quarter of its fiscal 2019, which ended September 30, 2018. That's higher than company guidance of $810m to $870m, and up roughly 40 per cent on the year-ago period.
The Silicon Valley server maker delivered GAAP EPS in the range of $0.35 to $0.39, and GAAP margins in the range of 13.2 to 13.4 per cent.
Though buoyed by strong sales in after-hours share trading, despite news the company will restate its past three fiscal years to correct accounting errors, the manufacturer's stock has yet to recover from the precipitous fall it took in early October following Bloomberg's claim that Super Micro's server motherboards had been backdoored by malicious spy chips added at the behest of Chinese government snoops.
The organizations named in that report – Amazon, Apple, and Super Micro – have all asked Bloomberg to repudiate its story. However, the news organization continues to maintain its reporting was accurate: that a Chinese factory used by Super Micro was leaned on by Beijing to hide tiny chips on the motherboards, chips that allowed agents to spy on the machines. So far, however, no compromised hardware has surfaced, leaving the tech industry unable to figure out who's telling the truth.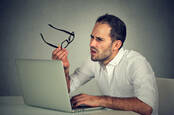 Chinese Super Micro 'spy chip' story gets even more strange as everyone doubles down
READ MORE
Amazon, unsatisfied with the lack of retraction, reportedly pulled its fourth quarter ad spending with Bloomberg, which publishes the magazine Business Week as well as information terminals to traders. Apple's terrible vengeance, it's said, took the form of excluding Bloomberg from its October 30 media event in Brooklyn, New York. Welcome to the club, Bloomers.
Echoing a letter sent to customers last month, Super Micro CEO Charles Liang on a conference call today with financial investors briefly addressed the allegations, calling the claims "not only impossible but wrong."
"We have never been contacted by any customer with regard to malicious chips," he said. "We've never been contacted by US or foreign law enforcement alerting us to malicious chips on our hardware."
Bloomberg has said it stands by its reporting.
Liang said the company will continue to work with customers to deal with concerns. We've heard anecdotally of IT staff at some buyers of Super Micro gear – particularly banks and similar corporations – tearing through their inventories and networks for signs of James Bond chips and unauthorized traffic. The effects of the Bloomberg report have also been felt by resellers.
Chief financial officer Kevin Bauer said the "unwarranted hardware hacking article" had slowed sales, though insisted customers have begun to return. It will take another quarter, he said, before the full extent of the article's sales impact is clear. To reiterate, the above numbers are for the three months to the end of September; Bloomberg's article landed a week later.
Asked to elaborate on how the biz interacted with its customers following the report, Bauer declined to go into details, allowing only that the manufacturer has corresponded directly with punters on the issue.
Liang stepped in to reiterate his previous denial. "We don't believe there's such a spy chip and most of our key customers don't believe that too," he said.
For its second fiscal quarter of 2019, Super Micro expects revenue somewhere between $830m to $890m. ®