This article is more than 1 year old
China examines antitrust probe thrust into Samsung, SK Hynix and Micron: Claims to see 'massive evidence'
We'll thrust it even deeper into chipmakers, vow investigators
China has claimed to have gathered "massive evidence" in its ongoing investigation into Korean chip giants Samsung and SK Hynix and the US's Micron for alleged violations of its antitrust laws.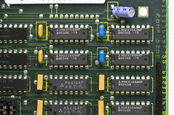 China's make-your-own DRAM ambitions growing all the time
READ MORE
In June it was revealed the Chinese government had launched a price-fixing investigation against the three semi-conductor suppliers, which supply billions of dollars' worth of memory and flash chips to the Middle Kingdom, and could impose billions of dollars in fines.
The three suppliers, who control around 90 per cent of the DRAM market, confirmed regulator visits to their Chinese offices at the time and deny any wrongdoing.
An FT report has said investigators in China now claim to have found "massive evidence" of antitrust violations by the trio and are looking more deeply into the their affairs in China.
According to SK Securities, half of Micron's semiconductor revenues, some 40 per cent of Samsung's chip sales and a third of SK Hynix's semiconductor revenue came from China in 2017.
China's pitch is that the three account for 95 per cent of worldwide semiconductor sales and appear to have kept DRAM and NAND prices artificially high in China.
This being China, there are multiple background layers to the story. Firstly, China wants to be independent and self-sufficient in memory and NAND chip supply and has a multi-year, state-backed and subsidised initiative to make that happen.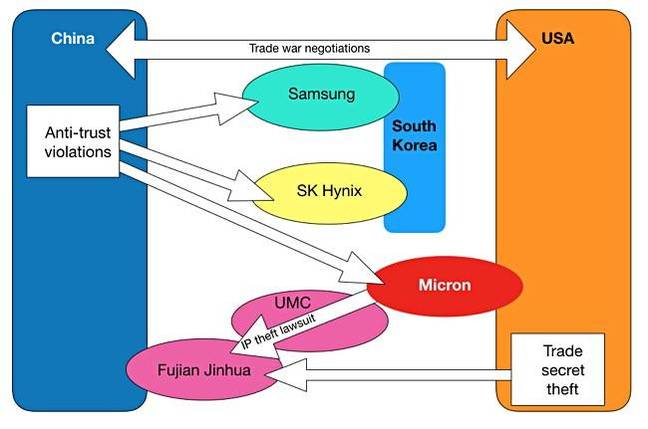 Aspects of the China-US-South Korea chip spat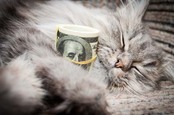 Guess who's getting fat off DRAM shortages? Yep, the DRAM makers
READ MORE
Business like the Tsinghua Unigroup, Fujian Jinhua and Yangtze Memory Technology are involved in this. Tsinghua tried to buy Micron three years ago but was rebuffed. Yangtze Memory Technology is in the 3D NAND business. Fujian Jinhua is a DRAM foundry startup.
Micron, meanwhile, has sued a Taiwanese corporation, UMC, claiming it stole intellectual property and passed it on to Fujian Jinhua. Separately, the US government has filed charges against UMC and Fujian Jinhua on that matter and banned it from buying US components. ®