Let's have a look-see, Pure. Sales, up. Staff, growing. Forecasts, beat. Projections, rising. Profit... oh look at the time, gotta run, cya...
Net income seems to be the hardest words for storage biz
---
Pure Storage has reported quarterly results that beat Wall Street estimates and caused it to upgrade full-year guidance – but one thing still evades the all-flash array maker, and that is profit.
For the three months ended 31 October, Pure's Q3 of fiscal '19, revenues crossed the line at $372.8m, up a whopping 34 per cent year-on-year, and higher than the $365m forecasted by analysts.
CFO Tim Riitters said in an earnings call with financial types that product revenue was $298.9m, 31 per cent up year-over-year. Support subscriptions, he added, jumped 48 per cent to $73.9m.
He attributed the climb in trade to "strong FlashBlade execution in the quarter as well as continued adoption of our X series products".
Pure was coy about revealing its standalone FlashBlade revenue but described the figure as "significant".
More than two-thirds of FlashArray systems are sold with NVMe support and, according to Wells Fargo senior analyst Aaron Rakers, Pure will introduce NVMe-oF support (Ethernet) via a software upgrade by the end of 2018, with NVMe-over-FC support in early 2019.
A brace of cloud services, released yesterday, was where CEO Charlie Giancarlo decided to focus much of his energy during the call with analysts.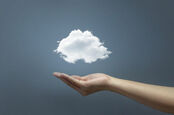 Pure Storage: You thought we were just good for hot flash? Feel our cooling hybrid cloud
READ MORE
"Customers are increasingly voicing a clear demand for a hybrid cloud, but the reality today is that there is a cloud divide and nowhere is that more evident than at the storage layer," he said.
"On-prem and Cloud Data Services vary widely making it difficult to build applications that can be run everywhere requiring that our customers make a technology choice between on-prem and the cloud," Giancarlo added.
Of course, Pure doesn't think it should be this way, and has launched Cloud Block Store, CloudSnap and StorReduce, the nitty gritty of which we covered here.
Back to the quarterly stats, Pure won 300 new customers in Q3 – of which almost 40 per cent were in the Fortune 500 – taking the total number to more than 5,450. Around 71 per cent of revenue was generated in the US and the remainder from 'International" sales.
Total headcount at the end of the period was over 2,650 employees compared to 2,000 a year earlier.
Gross margin was 68.1 per cent, equating to a gross profit of $249.1m, up from $181.7m in the prior year. Operating expenses went up 30 per cent to $276.3m: the hike was caused by a rise in R&D spending, and upward swings in sales and marketing costs and general & admin expenses.
All this left Pure nursing an operating loss of $27.2m, albeit better than the operating loss of $29.57m in Q3 '17. Other expenses and a tax credit resulted in a net loss of $28.18m, versus $29.4m a year ago.
Pure, founded by the way in 2009, finished the quarter with cash and investments of $1.1bn, which was up slightly from the previous quarter. Free cash flow was $28.5m in the quarter.
Revenue for Q4 is now forecast to be between $438m and $446m.
Outlook
Full fiscal 2019 revenues are expected to be between $1.376bn and $1.384bn, a midpoint of $1.380bn, which represents an increase of $15m from its previously guided midpoint, and a 35 per cent rise on a year ago.
The firm said it would invest a lot in sales and marketing, looking to reap the benefit in the second half of fiscal 2020. It wouldn't quantify the Cloud Data Services opportunity but, with expansion into Azure and the Google Cloud, it could be a $100m-plus business. ®