This article is more than 1 year old
Pure Storage: You thought we were just good for hot flash? Feel our cooling hybrid cloud
Disk to disk to tape? Nah, it should be flash to flash to cloud
+Comment Pure Storage is going to make hybrid public-private cloud data services available to customers, allowing them to, among other things, restore snapshots to either on-prem kit or AWS silos.
A year or more ago, Pure recognized that selling flash boxes for on-premises enterprise use was limiting its appeal in a world where compute is consumed in multiple ways. Since then, Pure has made moves into the managed service provider and hybrid cloud spaces.
The US tech upstart sells a primary all-flash storage system called FlashArray, and an ancillary system called FlashBlade to store unstructured data for machine learning and analytics work. FlashBlade has also found a role as a backup target for FlashArray data, providing fast local recovery.
Both systems are sold to enterprises for on-premises use and to managed service providers as a cloud resource for their customers. Pure also has the ability, via CloudSnap, to store FlashArray snapshots in Amazon's S3 and Glacier services.
This set of hybrid cloud bare bones has now had some flesh, or should that be flash, added to them, with more to come, apparently.
Pure bought deduping biz StorReduce in August, and has moved quickly to add the tech to its snapshot and CloudSnap feature set, pitching it as a cloud-native dedupe engine. That means FlashArray snapshots sent to FlashBlade get deduplicated and take up less space, as do snaps sent via CloudSnap to Amazon Web Services.
The FlashArray Purity OS has been enabled to run in Amazon's cloud, and set up a Cloud Block Store and a Cloud Object Store, both in AWS. Pure said the block store is for mission-critical apps to run in the cloud, with seamless RESTful APIs on-premises and in the cloud. The hybrid cloud technology is available from this week in a limited public beta.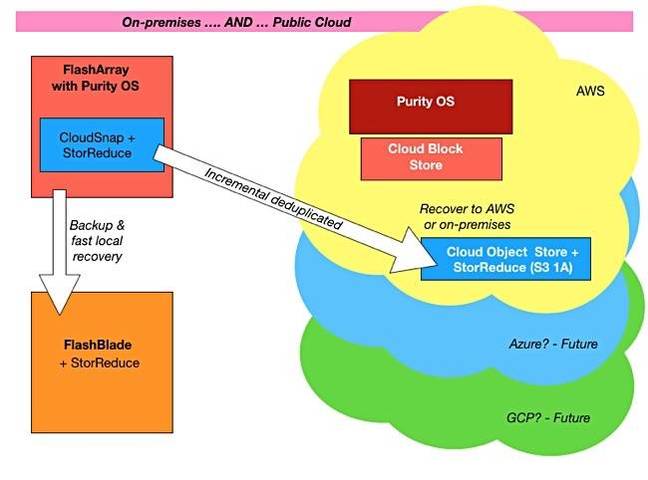 Pure's hybrid cloud data services
The current D2D2T (disk to disk to tape) backup approach will be, Pure reckons, replaced by F2F2C (flash to flash to cloud), with the public cloud replacing tape and providing faster restores as well as the ability to pump backup data out for reuse.
We're told CloudSnap for AWS can produce portable, incremental, and self-describing snapshots, stored in an S3 Z-IA repository. They can be recovered back to the on-premises environment or set up to run inside AWS, recovered to the cloud, for disaster recovery or migration, use in test and dev or more.
These are steps on the way to having a FlashArray Purity environment, and a trio of storage types (object, file, and block) running across on-premises, hosted, and multiple public cloud environments, with workloads able to migrate between them.
Reg vulture's comment
What we have seen here is reminiscent of NetApp's Data Fabric, a set of software features providing a supplier's data storage and management services spanning the on-premises and public cloud worlds. Pure has made the point that the public cloud style of IT is vastly different from the on-premises world. The two have to be made more alike, either literally, as in both running containerised apps, or effectively via software abstraction layers.
Each public cloud is different and having an on-premises supplier provide a multi-cloud software scheme prevents you getting locked in to AWS or Azure or GCP. Pure's EMEA CTO Alex McMullan said its new software would help make the public cloud a commodity.
It's our understanding that Pure's hybrid cloud data services will be extended to include Azure and the Google Cloud Platform, thus ticking the multi-cloud box. ®