This article is more than 1 year old
SAP claims French robo minnow Contextor slurp will slash clicks needed in its ERP software
Automated mercy for those knobbly pointers
SAP has snaffled automation minnow Contextor, claiming it will automate half the business processes supported by its ERP software in the next three years.
The terms of the deal have not been disclosed, but it will no doubt be multiple orders of magnitude less than the $8bn the German giant last week said it paid for experience-data-slurping outfit biz Qualtrics.
Contextor is tiny in comparison – the Orsay, France-based company was founded in 2000, employs less than 50 people and, according to Crunchbase, has raised just €600,000 to date.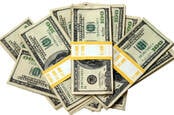 SAP slurps up Qualtrics for a cool $8bn, persuades firm not to IPO
READ MORE
SAP's decision to acquire a small company also contrasts with Oracle's approach, which has been to partner with UiPath – an robotic process automation (RPA) firm that was in September valued at $3bn on a $225m Series C funding round.
The buyout is further indication of SAP's interest in RPA and machine learning, as it attempts to tap into businesses' interest in automation and intelligent systems.
It is part of the wider pitch for the "intelligent enterprise", which is the notion that firms need to boost use of data and automation to function in the modern business world.
SAP said it would use Contextor's tech to simplify interface interactions across SAP and non-SAP applications.
It will also bake it into ERP suite S/4HANA. SAP plans to stop support for its existing ERP Central Component (ECC) in 2025 – but uptake of S/4HANA has been slower than hoped, partly due to confused messaging from the firm.
As for using Contextor's RPA to automate half of all business processes supported by SAP's ERP software within the next three years, the idea is to use machine learning to guide an RPA bot to execute certain processes, to speed up processing by creating what SAP has referred to as an "end-to-end automation stack".
The acquisition announcement follows an October investment in RPA for SAP's Leonardo toolkit, which was also aimed at automating the repetitive processes across its portfolio.
"RPA and machine learning have a very clear role to play in helping simplify [business process management] processes," Stephen Jamieson, head of SAP Leonardo for UK and Ireland, told The Register in an interview at the SAP UK and Ireland user group meeting last week.
"Our customers often have processes with elements that are repeatable. In a typical accounts-payable process, there could be 14 manual steps involved, and using RPA technology, you could turn that into five or six, which is quite significant."
SAP has said that the first products are expected to be available in early 2019, starting with a robot infrastructure for S/4HANA that will "automatically click through a workflow with multiple steps and applications while learning from and dealing with exceptions". ®