Holograms to Match of the Day: Huawei shindig shows 5G is still playing all things to all people
But whatever, you can expect phones next year
---
Roundup After years of interminable waffle, 5G is almost upon us, and Huawei wants to tell us what works – and what must wait. At this stage, the wrinkles are as valuable as the milestones, because 5G is a vast smorgasbord of different technologies and aspirations.
Not everything has been nailed down yet by the 3GPP Release 15 committee, but enough detail was established in June for the industry to charge on regardless*.
At Huawei's Mobile Broadband Forum (MBBF), Huawei deputy chairman and rotating CEO Ken Hu** said that 154 carriers in 66 countries are testing 5G, and Huawei itself has shipped 10,000 5G basestations.
But Huawei doesn't expect 5G smartphones to reach decent volumes until 2021. That's necessary for the mass market to take off.
Also at MBBF, BT demonstrated a 5G broadcast "Live from Wembley", inspiring one attendee to reminisce about how we'd all be using video calls once 3G fell into place.
BT Sport is experimenting with 5G for remote production in the field and made this bold claim last week. It said it hopes to "transmit live using only fibre technology and a rucksack containing a 5G Wi-Fi router which will reduce broadcasting costs and allow highlights programmes like Match of the Day to be aired at tea-time rather than late evening".
This invites you to think that the reason for MotD starting five hours after most games finish on a Saturday is because of network issues, rather than club policy, or the time needed to produce a professionally curated and edited highlights show.
Nevertheless, BT hopes 5G broadcasts can kick off in 2019/20.
Orange came with some well-justified whinges. Since 5G is all things to all people, it's really a bunch of different technologies and architectures.
This complaint about number of architecture / topologies by @orange Vamparys at #HWMBBF echoes @TMGB points at @cambwireless event the other day pic.twitter.com/t4a0LZMKlP

— Dean Bubley (@disruptivedean) November 21, 2018
Orange's presentation ranged from 5G as a "complement" to wired broadband (5G-FWA, which we discussed yesterday) and ranged over specialist services. Thanks to network slicing, real QoS may be here at last. Orange said tests on vehicle-to-vehicle or vehicle-to-infrastructure networks (V2X) could attain a latency as low as 15ms.
There's a demo from March here.
Orange Group #5G roadmap via Arnaud Vamparys, SVP radio network @orange #HWMBBF pic.twitter.com/vhxyHdIfAf

— Paolo Pescatore (@paolopescatore) November 21, 2018
Aston Martin was on hand to plug its luxury Lagonda concept, which if it ever comes to fruition, will be an all-electric, "ready for autonomous driving" car. What does this mean? The steering wheel is retractable. Right now safe autonomous driving is at Step 2 in the Underpant Gnomes'*** business plan.
An attempt at self-deprecating industry humour came here, which rather highlighted the obstacles to 5G which everyone recognises.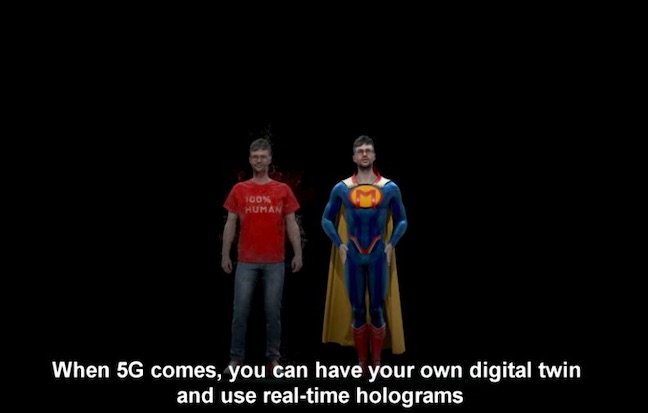 Obstacle race
So what's in the way of all this greatness? The handsets aren't here – they traditionally lag behind – although a bunch will be unveiled at MWC early next year. Including, according to the Wall Street Journal, Samsung's Galaxy 10.
Then there are deployment issues, highlighted by Huawei's Ryan Ding. Getting 5G into lots of new sites (and it will require many more sites than 4G) remains difficult. The spectrum isn't available – a common complaint.
Ryan Ding of @Huawei presenting top 5 challenges for deploying #5G #HWMBBF

Also suggested solutions eg lighter / smaller antennas for Massive MIMO antennas pic.twitter.com/wM2VeyAUh3

— Dean Bubley (@disruptivedean) November 21, 2018
Three CEO David Dyson echoed these complaints. The UK is 19x more expensive to acquire sites than the Nordic countries, and the passive infrastructure 4x more expensive. It makes transmission 6x as expensive as Austria, Sweden and Denmark.
That's defined by the ECC regulations – but with Ofcom having just signed off on a multiyear review, it's unlikely to want to revisit it without political pressure. ®
Bootnotes
* Real 5G, or the "rest of 5G", is in the parallel Release 16 track, which is where IoT was thrown. You can find out more here.
** This refers to the fact Huawei appoints three alternating CEOs who job share, rather than his manner.
*** For those unfamiliar with the South Park episode, the gnomes' plan went like this. Step 1: Collect underpants. Step 2: ? Step 3: Profit.