Well that's just spliffing: UK Amazon merchants peddling Mary Jane
Hey, Bezos wanted to create the everything store...
---
With all eyes on Black Friday, retail kingpin Amazon UK moved that bit closer to fulfilling CEO Jeff Bezos' ultimate plan of becoming the everything store – by adding high-strength weed to its digital shelves.
Thanks to an eagle eyed Reg reader, the scribes in Vulture Towers yesterday mused at the variety on offer from Amnesia Haze, through to Strawberry Gelatto, Tea – not the English Breakfast variety – and Lemon Haze. The names wouldn't be out of place in a Dulux catalogue.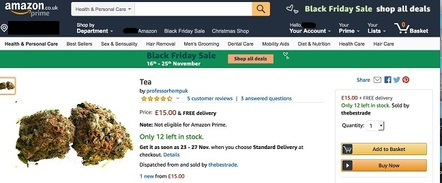 Prices started at £15 per gram, and got cheaper as you scaled – it was £300 for 30g: all you'd need to make your Xmas go with a bong. The green stuff was sold by third-party merchants that use Amazon as a front end, a store within a store.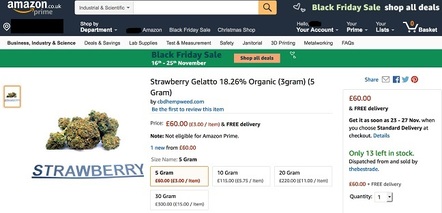 Merchants included Marley Bros, CBD Hempseed.com, Natural, Natural CBD and Professorhempuk. No clichés here. Related paraphernalia including smoking papers and pipes are still available but from Amazon itself.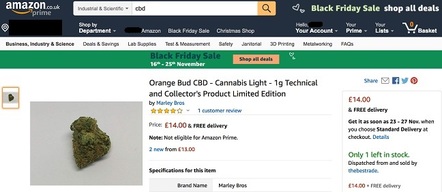 Orders would be delivered free of charge, the site promised, but were not eligible under the Prime service, which would have been disappointing to those unable to wait for their next high. Gallons of cannabis oil-infused spring water in the interim? The goods were all shipped within the UK, it is understood, rather than running the risk of coming in through customs.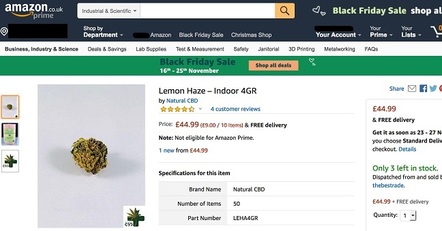 Weed and other illegal drugs have long been sold on the dark web, so this has been an interesting development for Amazon, a retailer known for moving into markets and disrupting – sorry, awful bloody term – incumbents. This could be a new turf war on a whole different sort of block.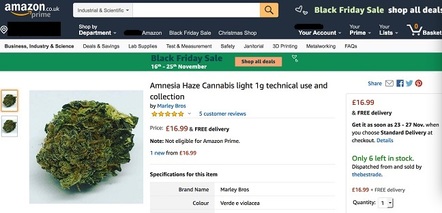 Unlike in parts of the US and Canada, recreational cannabis remains illegal in Britain although medicinal use was legalised last month with specialist doctors able to issue prescriptions for cannabis-based medicines. This followed an outcry when some people were denied such treatments.
"The new law will not limit the types of conditions that can be considered for treatment and doctors will no longer need to seek approval from an expert panel in order for patients to access the medicines," the Home Office said.
El Reg yesterday made Amazon aware of the weed being sold via its website.
A spokesperson for Amazon told us: "All Marketplace sellers must follow our selling guidelines, and those who don't will be subject to action including potential removal of their account. The products in question are no longer available."
A spinner at the National Police Chiefs' Council told us it has teams across the UK "combing" the web for illicit activity, and if a member of the public has concerns, they should report the matter to the cops. ®