Facebook's outgoing public policy chief, Elliot Schrage, appears to have fallen on his sword, taking the blame for smearing critics of the company.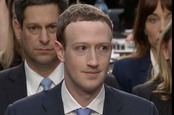 Facebook's CEO on his latest almighty Zuck-up: OK, we did try to smear critics, but I was too out-of-the-loop to know
READ MORE
Facebook had already appointed former UK deputy prime minister Nick Clegg as head of global affairs last month, demoting the importance of Schrage, VP of global communications and public policy.
Last year, Schrage, formerly of Google*, hired opposition research firm Definers Public Affairs, The New York Times reported recently.
The firm's Tim Miller told the NYT the operation had tried to "muddy the waters" by comparing its data processing operation to Apple, something he admitted was inaccurate. Anti-Facebook protesters had arrived at one Congress hearing with placards comparing Facebook to a globe-encircling octopus.
Facebook reportedly called the Anti-Defamation League to condemn the placards as antisemitic. The firm also circulated research about Facebook critics ranging from George Soros to pro-Trump YouTubers Diamond and Silk.
Definers denied being hired to do "opposition research", claiming it was mostly doing media monitoring and PR, but admitted "a fraction of work" was, er, "research and information about critics".
"I knew and approved of the decision to hire Definers and similar firms. I should have known of the decision to expand their mandate," said Schrage in the post, first leaked to TechCrunch.
Facebook has reposted it with an addition by COO Sheryl Sandberg, who claimed: "I didn't remember a firm called Definers. I asked our team to look into the work Definers did for us and to double-check whether anything had crossed my desk. Some of their work was incorporated into materials presented to me and I received a small number of emails where Definers was referenced."
That's OK, then. ®
Bootnote
* An early exercise in transparency is reported here.