This article is more than 1 year old
Grandmaster flash Samsung dominated SSD market in 3Q2018
Plus: PC, notebook hard drive ships set to be eclipsed by flash
SSD market stats for calendar Q3 from DRAMeXchange, IDC and TrendForce and Wells Fargo have highlighted three things: Samsung remains the global undisputed sales heavyweight; the PC industry will suck up more SSDs than disk drives next year; and NVME is the enterprise SSD interface of choice.
Samsung, with 36 per cent revenue share, led the overall NAND market, followed by Toshiba (19 per cent), Western Digital (15 per cent), Micron (13 per cent) and Intel (6 per cent). The 'others' section made up the remainder.
The revenue champ in enterprise SSDs (eSSDs) is still Samsung, with a 38.5 per cent spoil of total sales, but Intel jumped into second place with 18.3 per cent, followed by Micron (8.7 per cent), Toshiba (8.8 per cent), Western Digital (7.8 per cent). Again the 'others' section accounted for the rest.
In the eSSD category, NVMe was the most popular interface: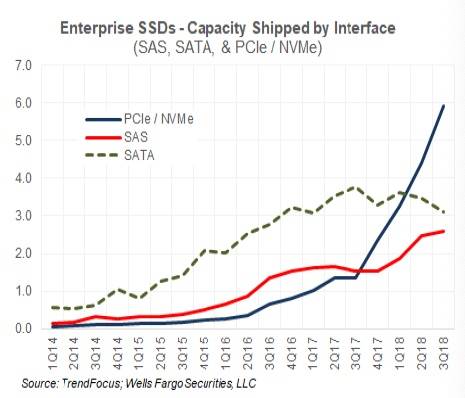 The use of SATA is declining while SAS usage is growing slightly. If NVMe makes an appearance in desktop and notebook systems then it could well crush both SATA and SAS shipments.
Samsung shipped most NVMe capacity (52 per cent), Intel pumped out 20 per cent, Western Digital 7 per cent, SK Hynix 6 per cent and Micron a lowly 1 per cent. Others took 14 per cent.
Client SSD revenue shares in the third quarter were dominated, again, by Samsung with 38.7 per cent share. Toshiba was back in second place (11.3 per cent), followed by WD and SK Hynix in joint third with 10.1 per cent each. Micron was fifth at 7.3 per cent, Intel sixth at 5 per cent and the others account for the rest.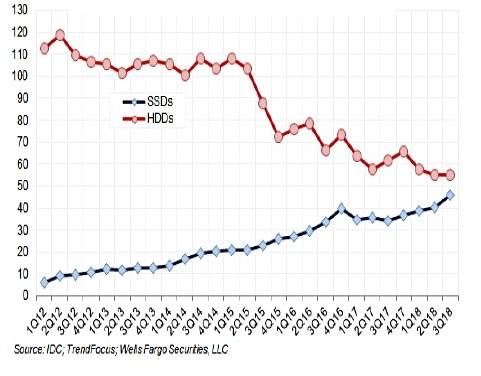 Client SSD units vs HDD units
Client SSD unit shipments are set to overtake client disk drive ships and crossover could happen in 2019 if the chart above is to be believed, with grandmaster flash Samsung set to lead the way.
Bootnote
Thanks to Wells Fargo senior analyst Aaron Rakers for collating the numbers.