Openreach names 81 lucky locations to be plugged into its super-zippy Gfast pipe
Take a look up the railtrack, from Barking to Faversham
---
UK fibre flinger Openreach has announced plans to bring its ultrafast broadband service to another 81 locations, thanks in part to the joy of Gfast.
Just over a million homes and businesses across the country will be able to enjoy the heady delights of up to 330Mbps, which the infrastructure business reckons is seven times the current UK average.
The likes of London, Birmingham, Manchester and, er, Worthing are among the 81 recipients, and will add to the more than 250 locations where go-faster stripes have already been applied. The former British Telecom tentacle plans to bolt its whizzy Gfast technology atop the existing infrastructure over the next nine months.
Gfast works by having fibre run from the existing telephone exchange to a street cabinet. New electronics then blast a more powerful signal over existing copper lines into customers' properties. Obviously, full-on Fibre to the Premises (FTTP) would be a better bet and more future proof, but Openreach reckons that going the Gfast route means the rollout will be considerably quicker.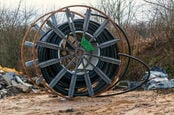 British fixed broadband is cheap … and, er, fairly nasty – global survey
READ MORE
Openreach has managed to get speedier broadband to 1.9 million UK premises thus far, by using a combination of FTTP and Gfast. By the end of 2020, the company expects to have three million premises connected. By the mid-2020s, Openreach plans to get Gfast to 5.7 million properties and FTTP to 10 million, "if the conditions are right to invest".
Originally part of BT, Openreach is now a wholly owned but independently governed division of the BT Group. It employs 30,400 and reported revenues of £5.1bn for the year ended 31 March 2018.
The company also made mention of its efforts to get FTTP to rural areas, thanks in part to cash shovelled its way by the UK government.
Much was made of the UK's position as the leading G20 nation in terms of the contribution of the internet to the country's economy in the announcement (although the report quoted does date back to 2015, and the wheels have got a bit wobbly since then). ®