Everyone's all like 'stick it in the cloud!' What of the mad lads pushing data closer to compute?
Propositions from 3 startups then... yeah, fluffy stuff
Roundup There was action at opposite ends of the spectrum this week – we learnt about three Israeli storage startups aiming to get data closer to compute while while world+dog stuffs it in the cloud.
Lightbits Labs and TCP
Lightbits Labs is developing NVMe access over TCP/IP instead of lossless Ethernet (ROCE) or InfiniBand (iWARP). Both are faster than NVMe over TCP but need expensive transports; data centre-class Ethernet, for example, instead of the standard lossy Ethernet used in LANs.
NVMe extends PCIe bus speed from direct-attached SSDs to shared external SAN arrays providing 100-120μs access latency – much, much faster than a SAN array's access time over Fibre Channel or iSCSI. This is variable but if we think of 100,000µs or above we should be in the ball park.
Lightbits claimed that commodity servers, running LightOS and with some FPGA-type hardware acceleration, can get latency down to around 200µs, slower than ROCE/iWARP but comfortably faster than using storage stacks going across Fibre Channel or iSCSI.
MemVerge and memory-NAND convergence
MemVerge is a fledgling biz that's only released sketchy details about its technology. The aim is to somehow converge memory and NAND using NVMe and RDMA, which suggests servers with DRAM linked to others with RDMA/NVMe and software to virtualize DRAM and NAND into a single memory pool.
VAST Data's radical data reduction
VAST Data has set out to use new tech to compress data by 80 per cent or more, which is an outstanding if not outrageous claim.
That would mean a 100TB data set could fit in 10TB of NAND and a 1.5PB set in 150TB. Provide that with TLC (3bits/cell) SSDs and it will more than comfortably fit in a 2U x 24-slot all-flash box with 7.68TB Micron 9200 SDDs totalling 184TB of capacity.
VAST said this means the effective cost/GB of flash would be so low you could have archival storage currently in the cloud or on object storage disk arrays in its flash, as well as common-or-garden filers' contents. You could collapse these nearline and long-term storage tiers into flash and access the data at all-flash array speed.
The company said it will reveal more details early next year.
Hey you, get on my cloud
Snowflake, which runs its data warehouse in either the Amazon or Azure clouds, has opened a research and development office in Berlin. It builds on an existing European presence with offices in London, Paris, Munich, Stockholm and Amsterdam.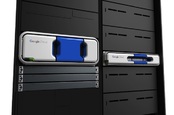 Google's data-transfer boxen hit beta in Europe
READ MORE
The Berlin R&D centre is to be led by Snowflake co-founder and CTO Benoit Dageville. Two veteran Snowflake engineers, Martin Hentschel and Max Heimel, will join him, and the three will focus on making machine learning and artificial intelligence easier to use for Snowflake customers.
Igneous, which provides data protection and management services, has bolstered its cloud credentials. It provides replication of backup exports and archives to Azure's Hot, Cool and Archive storage tiers; Google Cloud Platform's Regional, Nearline, and Coldline storage tiers; and Amazon Web Services' S3 Standard, S3 Infrequent Access and Glacier storage tiers.
Shorts
Compuverde, whose vNAS product is used by IBM for its Spectrum NAS product, has updated its software to provide lower latency, NDMP backup and real-time cache synchronisation for metro cluster.
Managed service providers can offer backup and recovery services for Office 365 Exchange mailboxes by automatically backing them up to Altaro's Microsoft Azure infrastructure.
Cloud backup, recovery and restore software provider Asigra said the UK's Public and Commercial Services Union (PCS) has deployed its Cloud Backup Evolved V14.
The Container Storage Interface (CSI) v1.0.0 has been released and is available on GitHub to provide a single storage provision plug-in for Kubernetes, Mesos and Cloud Foundry.
DDN is storing data for NASA's Mars InSight lander, which is preparing for arrival on Monday, 26 November.
An Enterprise Strategy Group report, "2018 Data Protection Landscape Survey", suggests most businesses have two, three or even four backup suppliers and will have more in the future.
Dutch insurer De Goudse has HubStor data protection running in Azure to protect, tier and manage its data.
Quantum has let two execs go – Bill Britts, EVP Operations and Global Services, and Chris Wills, VP Financial Planning and Analysis. ®