Who, Me? Another Monday has landed with a thud – no doubt even more so for those of you in the States coming down from a weekend of Thanksgiving revelry.
But it also means it's time for the latest instalment of Who, Me?, where Reg readers write in with their confessions of tech disasters to cheer you up.
This week, we have a lesson in why it's not always sensible to blindly follow instructions, no matter how knowledgeable the source seems.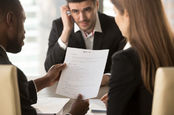 Microsoft sysadmin hired for fake NetWare skills keeps job despite twitchy trigger finger
READ MORE
Reader "Emil" said that in the early 2000s, he was working as a consultant for a medium-sized IT consultancy firm in Denmark.
"We had an Exchange server with issues," he said. Possibly trying to push the bad memories deep into the crevices of his mind, Emil said he couldn't quite remember what the problem was – but that a search on Microsoft advice forum TechNet came up with a Knowledge Base article "that fitted like a glove".
Because they didn't have laptops, Emil and his colleague printed off the article, and headed back to the Exchange server in the server room to put the plan into action.
"Both of us read the article and agreed that this was the solution," he said.
That solution was to delete an organisation with the Danish letters "æøå" and create a new one. "Simple, and easy to do."
Or not. "I deleted the organisation and created it again," Emil said. "But instead of a solved issue, more problems arose."
On closer inspection, the duo realised that the helpful article they'd discovered on TechNet was slightly longer than they thought.
And at the top of that final page were the words: "Only do this if there is one Exchange server in the organisation."
Emil's organisation had two.
"A call to a colleague in the main office, who was our Exchange expert, gave him work until 4am – enough time for me to travel the 200km to join him."
The only silver lining was that the Exchange server involved was their own, Emil said. "And that I learned always read an article to the end before implementing the procedure."
Have you ever trusted someone on the internet to provide you with an answer – and seen it all come crashing down around you? Or maybe you're the person who handed out a dodgy suggestion? Tell Who, Me? your tales and we might publish them next week. ®
Similar topics