Obit Baroness Trumpington, a wartime Bletchley Park transcriber who was part of the push to posthumously pardon Alan Turing, has died aged 96.
As the daughter of a society family that had almost been ruined in the Wall Street Crash of 1929, Jean Campbell-Harris left school aged 15 "having never sat an exam but fluent in French, German and Italian," according to the BBC's obituarist.
When the Second World War broke out, her parents, who had retained their society connections despite the stock market crash, found her a post working on former Prime Minister David Lloyd George's farm, where she recounted that the "old goat" would find reasons to stand her against a wall and measure her with a tape, telling The Guardian: "I suppose that was the nearest to flesh he could get with [live-in mistress and later wife, Frances] Stevenson's beady eye on him."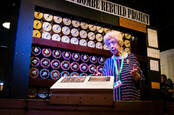 WWII Bombe operator Ruth Bourne: I'd never heard of Enigma until long after the war
READ MORE
A year later she joined the code-crackers of Bletchley Park, aged 18, transcribing intercepted messages from German submarines. While the code-breakers and the rest of the team at the site did not mix, the future baroness spent her free time socialising at London's key spots for the upper crust, including the Ritz and Claridge's. She told The Daily Telegraph of one "very unsuitable" incident from her time at Bletchley when her team were disciplined after being caught singing the Nazi Party's official anthem, explaining: "You had nothing to do but work so you got up to mischief."
Following the war she travelled to America, where she met her husband, schoolmaster Alan Barker, and the two returned to the UK in 1953. A spirited soul, Jean "smoked, drank, [and] jumped into swimming pools fully clothed".
Later in life she entered politics with the Conservative Party, first in local government and eventually being created Baroness Trumpington of Sandwich in the County of Kent in 1980, joining Margaret Thatcher's government in various junior ministerial roles in health and agriculture.
Baroness Trumpington was noted for her political focus on women's issues, particularly of women in prison and mental health, acting in a semi-diplomatic capacity on behalf of the UK at the UN Commission on the Status of Women. Always one for a smoke and a drink, she also sat on the House of Lords' Refreshment Sub Committee in the early 1980s.
She was also part of the political campaign to posthumously pardon Alan Turing for his criminal conviction for homosexuality, telling the House of Lords: "While in 2009 the then Prime Minister Gordon Brown issued an apology for Turing's treatment, this government should do more. This is not about legal issues but about recognising the debt this country owes Alan Turing."
Baroness Trumpington (the title appears to refer to the Cambridge council ward she once represented) only retired from the Lords in October 2017, having shot to political fame after giving a two-fingered salute to Lord King, who had injudiciously suggested that survivors of the Second World War had "started to look pretty old" before pointedly turning to a very unamused Trumpington.
Her son, Adam, paid tribute to her on Twitter, posting that she had "a bloody good innings".
My mother passed away this afternoon in her sleep. She did not make it to October 2022(100) ..but she had a bloody good innings. pic.twitter.com/IdtWi1zhPq

— Adam Barker (@adamant138) November 26, 2018
Jean Barker, Baroness Trumpington, 28 October 1922 – 26 November 2018. ®