With investigations continuing into the cause of Lion Air flight 610's deadly crash into the Java Sea, experts are scrutinizing the plane's automated control system.
Early data from the doomed plane's flight recorder suggests that for much of its 11-minute flight on October 29, the pilots were struggling with the craft's Maneuvering Characteristics Augmentation System (MCAS).
This is a computer system designed to prevent the nose of the Boeing 737 Max 8 from pulling too far up and putting the plane into a stall when under manual control. It has nothing to do with the airplane's autopilot.
According to an early analysis of the crash, based on the partial release of flight data, the MCAS appeared to have mistakenly sensed a looming stall and tried to force the plane's nose down. The pilots responded by pulling the plane's nose up to compensate, only to have the MCAS system force the nose back down again.
In effect, they were wrestling with software and hardware inadvertently trying to kill them. It is thought an angle-of-attack sensor passed bad readings to the automatic MCAS, which downed the plane as a result. One of these sensors was replaced before its penultimate flight after producing dodgy figures. Boeing and US watchdog the Federal Aviation Administration issued a warning after the crash to say knackered sensors can cause 737 Max 8s to nosedive.
Peter Lemme, a longtime aeronautics exec and consultant who analyzed the early reports, estimates this month that the pilots fought with the MCAS system, pulling the plane's nose up 26 times before finally losing control and crashing the 737 into the Java Sea at more than 450 knots. All 189 people on board perished.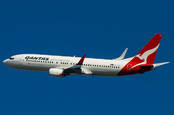 Boeing ships its 10,000th 737
READ MORE
"It may have been the point when the captain transferred control to the first officer that MCAS was successful in two successive cycles, trimming the stabilizer nose down over four units without opposition," Lemme said.
"The captain seems to have taken control back in the end, and pulls the column hard aft. MCAS is able to trim yet another one unit nose down before the captain stops it, but there is no subsequent significant command to trim stabilizer nose up."
Indonesian authorities are set to release further information about the tragedy in a fresh report due out later this week, though media reports suggest that write-up will fall short of delivering a full summary of the events and causes that led to the disaster.
Boeing, meanwhile, says that it believes its 737 Max fleet is still safe to operate.
"We are confident in the safety of the 737 Max. Safety remains our top priority and is a core value for everyone at Boeing," the Aerospace giant said last week.
"While we can't discuss specifics of an on-going investigation, we have provided two updates for our operators around the world that re-emphasize existing procedures for these situations." ®
Similar topics