Angry Googlers demand bosses pull the wings off 'Dragonfly' censored Chinese search engine
Open letter signed by staff condemns Beijing-edited version of internet indexer
Over one hundred Google employees have signed an open letter condemning the advertising titan for building a censored version of its search engine for China. The Googlers demand the project be cancelled.
"We are Google employees and we join Amnesty International in calling on Google to cancel project Dragonfly, Google's effort to create a censored search engine for the Chinese market that enables state surveillance," the letter, published online, begins.
It notes that thousands of employees internally have raised their concerns about the online giant's plans but argues that so far the "leadership's response has been unsatisfactory."
Google prides itself on allowing internal dissention but is much less accommodating when it comes to being criticized in public, leading to a cultish corporate atmosphere where employees constantly talks in terms of whether something is "Googley" or not.
Criticizing the company publicly has, until very recently, been seen as something that is not Googley, although last month that notion was challenged when Google employees carried out public protests about sexual harassment payoffs at the company, insisting that speaking out was in fact "Googley." That was as far as most were willing to go, however, and the protestors quickly went back into their offices to continue discussion on internal noticeboards.
As such this letter is another challenge to Google's private-public barrier on dissention. It was initially published on Tuesday morning with just ten signatories but has been updated to add new names – at the time of writing it stands at 139.
Although the letter notes that "many of us accepted employment at Google with the company's values in mind, including its previous position on Chinese censorship and surveillance," the letter only implies that the signatories will leave the company if it doesn't drop the project.
Leaky ship
Back in August, leaked documents indicated that Google had been working on a censored version of its search engine for mainland China, restoring a service it launched in 2006 and discontinued in 2010 in response to an attack on its infrastructure.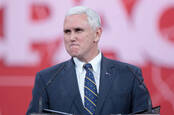 Iron Mike Pence blasts Google for its censor-happy Dragonfly Chinese search engine
READ MORE
The documents indicated that the project, named Dragonfly, was started in 2017 and accelerated in December 2017 when CEO Sundar Pichai met with a prominent Chinese government official. Google refused to comment on the project saying: "We don't comment on speculation about future plans."
That was taken as an acknowledgment that the reports were true and the project has subsequently been roundly condemned by human rights groups as well as US vice president Mike Pence.
"Our opposition to Dragonfly is not about China," says today's open letter, "we object to technologies that aid the powerful in oppressing the vulnerable, wherever they may be."
The signatories argue that they felt Google was "a company willing to place its values above its profits" but references the protests over secret sexual harassment payoffs, Dragonfly and Google's work with the Pentagon – where it is developing AI algorithms to identify objects in videos taken by drones under the Project Maven moniker – as examples of where it is failing.
"We join with Amnesty International in demanding that Google cancel Dragonfly. We also demand that leadership commit to transparency, clear communication, and real accountability. Google is too powerful not to be held accountable. We deserve to know what we're building and we deserve a say in these significant decisions," the letter ends. ®