Edgelord of the Things: HPE waggles its one line to bring them all and on the edge bind them
Edgeline boxen bang operational tech and IT heads together
HPE Discover 2018 Don't want a full blown data centre? Not a problem, said HPE today as it lifted the curtain on a fresh clutch of edge networking products – including a software platform – under its Edgeline brand.
The "converged edge systems" are aimed at bringing together operational tech and what we traditionally see as IT, according to company veep Tom Bradicich, who told The Reg this morning that it's not quite a stripped-down version of the big stuff from the bit barns.
"Not junior heads-down versions but the full stack," he said. "Not just similarity, but identicality at the edge, in the cloud and in the data centre."
This all forms part of what Bradicich summed up as HPE's market play to forcibly combine the operational technology (OT) and IT world. He did concede that HPE is "not an OT company" but added that "we're the only company to have taken those OT functions that already exist from other parts and we put them in the same box as enterprise class cloud level compute and security".
Among the new products are:
Edgeline OT Link Platform, which "automates the interplay between... operational technologies (OT) and standard-IT based applications";
Edgeline systems management, which, unusually, is intended to do what it says on the tin for your IoT gear; and
EL300 Converged Edge System, which is the hub you put in your branch offices or "a broad range of industrial deployments".
HPE is also dead keen on hand-holding its customers through the buying and deploying of this new gear, offering Field Application Engineering Services to build and customise all of it.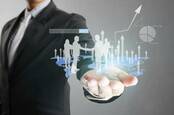 HPE CEO pledges $4bn Edge R&D splurge
READ MORE
Emphasising the company's $4bn splurge on edge computing, Bradicich said: "We need to think how to converge all the functions in the device," drawing a straightforward analogy with smartphones. "Yes, HPE is now in the IoT software platform business," referring to the Edgeline OT Link Platform.
The Edgeline OT Link Platform integrates "an ecosystem of third-party applications running from edge to cloud" with supported vendors – including AWS, Google, Microsoft, SAP, PTC, and GE – expected "to make insights from the edge available across the enterprise and supply chain". Broadly speaking, edge computing is all about moving what used to be data centre-scale workloads out to where data is actually created and captured, the idea being to decrease latency and reduce the cost of fat pipes or appliances to move data hither and thither.
In terms of OT, the Edgeline platform will be capable of talking to "a broad range" of systems including digital I/O, CAN buses (Bradicich was careful to mention cars as one potential application, in his speech to the tech press), Modbus, Profinet and also FPGAs.
All of this is intended to place HPE as the one-stop shop for enterprise-grade OT, IT and everything in-between. The boxen unveiled today include baked-in security functions – one example being the prevention of changes to the system boot file.
Bradicich said, in response to an audience question about whether HPE is pursuing a Lord of the Rings-style "one ring to rule them all" approach: "The question is who [from the IT industry's big US players] is going to lead and I'm going to say right now, it depends, it depends on what relationship the supplier has... The industry craves leadership to pull it together... And one of the best ways to do it is to offer a product that combines OT and IT technologies."
The EL300 box is powered by Intel i5 CPUs, 32GB of memory and 3TB of local storage, and is capable of both wired and wireless connectivity, as well as supporting Chipzilla's Movidius Myriad X units for video analytics "and AI inference". It is said to have "enhanced resiliency" against shock, vibration, humidity and dust, being compliant with the US military MIL-SPEC certification and the civilian IP50 equivalent.
It is available immediately worldwide, with list price starting at $2,500. If you cough up for it, HPE will chuck in "a zero-fee software licence" for Edgeline Integrated System Manager, though you'll have to pay $189 a pop for Edgeline OT Link modules. ®