Australia to build a pirate-proof fence: Brace yourselves, Google
There'll be search engine injunctions aplenty once site-blocking law's approved
Australia is certain to have a new "site blocking" regime imposed by the government, with a Senate committee deciding to wave the legislation through.
The draft law passed the Senate on Wednesday and will return to the country's House of Representatives.
On Monday evening, the Standing Committee on Environment and Communications delivered its inquiry report (PDF) into the "Copyright Amendment (Online Infringement) Bill 2018", recommending the laws be passed without amendment.
That means that if the government make time to pass it in a tight parliamentary schedule, the bill will soon become law.
As we reported in October, the legislation would give rights-holders greatly-expanded powers to force take-downs of infringing content.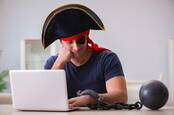 Oz to turn pirates into vampires: You won't see their images in mirrors.
READ MORE
Rights-holders will be able to seek injunctions against search engines (because as soon as one infringing site is blocked, people start Googling to find another); request blocks on file-share sites; and block what the legislation calls "alternative pathways" to pirated content.
The test for a site's illegality will be widened from sites whose "primary purpose" is infringement, to cover sites whose "primary effect" is infringement, and the country's federal court will be allowed to issue "adaptive injunctions" that allow rights-holders to expand the scope of site blocks without returning to court.
Rights-holders bombarded the committee's inquiry with submissions supporting the bill. Of the 25 public submissions made to the inquiry, 14 came from content industry representatives.
This is how the committee was able to conclude that the "majority of submissions received by the committee supported the bill and recommended that it be passed unamended".
The committee said the "primary effect" test, the inclusion of search engines, and the adaptive injunctions are all covered by "adequate safeguards" that "ensure that the measures would not result in unintended and adverse consequences".
The committee also recommended that the bill's operation be reviewed two years after it kicks into action.
The Australian Greens provided the only dissent to the committee's decision, with senator Janet Rice opposing site-blocking and saying that "copyright is better addressed by making the content available: conveniently, affordably, and in a timely way". ®