Facebook is failing its black employees and users, a black employee said in a memo sent to everyone at the ad-selling platform before he resigned last month.
On Tuesday this week, Mark Luckie posted a copy of the note, distributed internally on November 8, shortly before he left his job. Luckie worked as a strategic partner manager for global influencers, where he focused on underrepresented voices.
"Facebook has a black people problem," Luckie wrote, arguing that the antisocial network's actions and inaction have alienated a group of people who would otherwise be inclined to support the info-slurping biz.
Facebook could use more friends, he said. As a serial apologist, Facebook has managed to alienate not just black people, but teens, and politicians in the US and abroad. That's thanks in part to its role in distributing inflammatory misinformation in various countries, indifference to ad-driven discrimination, the Cambridge Analytica scandal, recent revelations about hiring an image massaging biz to discredit critics, and general resistance to transparency and reform.
Luckie contends that black people have had trouble discussing issues among themselves, because other people are reporting these discussions as hate speech, even though the conversations often don't violate Facebook terms of service. Accounts are suspended and content is removed, without notice or recourse, he claims.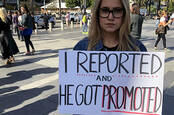 Google vows to take claims of sexual assault, harassment seriously, just like privacy
READ MORE
This treatment has led the black community to feel they are treated differently than any other group, said Luckie.
The company's data-driven approach to resource allocation has led to the reward of Facebook teams that have already achieved success, he observes, rather than initiatives that need support. "In doing so, Facebook is increasing the disparity of access between legacy individuals/brands and minority communities," he said.
Luckie wants the effort Facebook has put into increased engineering diversity to be extended throughout the company.
He says he assumes the company's intentions are good and gives credit to Facebook for doubling the number of black employees from 2 percent of the workforce in 2016 to 4 percent in 2018. Nonetheless, he argues that racial discrimination is an ongoing problem for employees.
Such missives have become a relatively common way to protest corporate culture. Earlier this year, Brian Amerige, a Facebook engineering manager of product usability, sent a memo protesting the company's "intolerant" liberal culture, shortly before he left the company.
Last year, Susan Fowler, a former site reliability engineer at Uber, published a post about the ride sharing biz's treatment of female employees, and in doing so helped bring about a change in corporate leadership. In 2015, Twitter software engineer Leslie Miley raised similar questions to that company's commitment to diversity. (As if to underscore the shortage of black voices in tech, Miley's post from three years ago links to remarks by Luckie.)
In public, Facebook says it is trying to make things better.
"Over the last few years, we've been working diligently to increase the range of perspectives among those who build our products and serve the people who use them throughout the world," said Facebook spokesperson Anthony Harrison in an email to The Register.
"The growth in representation of people from more diverse groups, working in many different functions across the company, is a key driver of our ability to succeed. We want to fully support all employees when there are issues reported and when there may be micro-behaviors that add up. We are going to keep doing all we can to be a truly inclusive company."
Just this year, the ad biz brought in its first non-white board member.
However, Luckie suggests that the response from executives in private is less conciliatory. A screenshot of a message that appears to be from someone identified as Ime characterizes Luckie's complaint as "self-serving and disingenuous."
I appreciate Facebook's response to my post calling out discrimination at the company. However, the tone is noticeably different from the only response I received from senior leadership after sharing the post internally. pic.twitter.com/S3fqT7u174

— Mark S. Luckie (@marksluckie) November 27, 2018
Given that there aren't many executives named Ime working at Facebook, it seems plausible that those remarks could have come from Ime Archibong, VP of partnerships. Archibong, via Twitter, appears to confirm this in a response to Luckie's Twitter post.
"Hey, I continue to stand behind everything I said in our private conversation (btw it's pretty disappointing to see you share our private messages without permission in a public forum)," he said.
In the Twitter thread, the irony of a Facebook exec lamenting his loss of privacy did not go unnoticed. ®