HPE Discover 2018 HPE chief exec Antonio Neri reckons what the corporate world really wants is to have a nice cloud "experience," which is an interesting way of saying "please, please, buy our cloud-as-a-service".
In a mostly unremarkable keynote speech at this week's HPE Discover knees-up in Madrid, Neri informed attendees that his firm is "more committed than ever to this purpose: to advance your vision and your strategy".
What HPE wants is for the world to stop dragging its feet and start buying a lot more cloud-as-a-service. Or, indeed, anything aaS – the segment makes up just 5 per cent of the company's revenues.
Edge computing, therefore, forms a large part of this corporate push. The edge ("where we live, where we learn, where we go," explained Neri on stage, which someone else had previously summarised as "everywhere but the data centre") must, in the words of HPE's chief exec, "work in harmony with the cloud", which itself had unaccountably morphed into "a destination," an "experience that enables your developers to build apps with agility and use the data to continuously improve."
Cloud is not just an experiential destination, in HPE's vision of the future it can be a hybrid cloud too, and the company wants "much more intelligence in our cloud infrastructure to help us curate it in a federated way and to help you in a multi-cloud world." To that end, PointNext (HPE's business services division) now has 2,000 "cloud implementation experts" among its ranks.
It wasn't much different from last year's talks about Greenlake, HPE's on-prem everything-aaS product. While the company is stable, in results terms, clearly the pressure is on to give the aaS a kick and get the money flowing faster into its coffers.
Just the middleman
Mark Linesch, VP, Strategy, Hewlett Packard Labs, was just as excited about all this as his ultimate boss.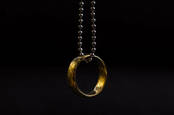 Edgelord of the Things: HPE waggles its one line to bring them all and on the edge bind them
READ MORE
"Customers really like consumption-based pricing," he told The Register. "You can have a cloud experience in private cloud, public cloud. What our customers want is that cloud-like experience with consumption-based pricing, with security, with financial visibility and transparency. Sometimes they want to operate that, sometimes they want us to operate that."
While HPE, unsurprisingly enough, "works well with the cloud providers" in Linecsh's view, things are a bit different when it comes to the channel. Direct aaS sales are, after all, eating the channel's lunch, though the firm has thrown them a good few bones.
"There's no 'one size fits all' for our channel partners and they have unique capabilities and skills which is a core advantages for our customers," said Linesch. "They use a couple of our channel partners and they buy direct, depending on their needs."
HPE's approach to cloud appears pragmatic, based partly on the cold business reality of not abandoning the field to Amazon and the public cloud other-rans and partly Linesch's observation that "not all workloads belong in a public cloud" where the customer ends up "locked in". What HPE wants to do is continue positioning itself as a neutral middleman, integrating everyone else's products into its composable IT infrastructure.
As for the competition, such as Dell and Cisco? "At 50,000 feet we all sell networks, servers," shrugged Linesch. "It's the quality of how we put that together in service to our customers that allows us to grow and compete... it's a dogfight out there sometimes but there's nobody else out there today [with the] breadth of the portfolio.
"Look at Cisco in servers," he continued, warming to his theme. "A few years ago they came on with a big bang with their blades. They've since fallen way back, quite frankly. Why? It's not in their DNA. They're a networking company – and so in our DNA it is infrastructure, software-defined infrastructure, the management of that infrastructure."
It's that end-to-end combination of Aruba's wireless networking smarts with HPE's data centre capabilities, sold as a service, which HPE continues to hope will boost its bottom line. Going by the emphasis of Neri on data and the processing thereof in his keynote, the world is not as fast to take this up as he would hope. ®