This article is more than 1 year old
Alleged crypto-crook CEO cuffed by FBI after $4m investment in his bank bafflingly vanishes
Endorsement could come back to bite Evander Holyfield
The CEO of AriseBank, a Texas-based upstart that billed itself as the world's "first decentralized banking platform," has been arrested by the FBI and charged with securities and wire fraud.
Last summer, Jared Rice, Sr claimed his newly found biz would provide everyday bank accounts to customers to store their cryptocurrencies. The accounts would be protected by the US government's Federal Deposit Insurance Corporation (FDIC), Rice claimed, and the bank would have its own currency, AriseCoin, sold in an initial coin offering to raise funding.
He set up a flashy website and promoted it heavily on social media, according to a now-unsealed indictment [PDF] filed this month in a Dallas court. He even scored a celebrity endorsement from the partially eared three-time world heavyweight boxing champion Evander Holyfield, although why you'd trust the perspicacity of someone who used to get punched in the head for a living escapes us.
Boxing legend and Hall of Famer Evander Holyfield has officially endorsed @AriseBank @BitShares Join the biggest fight in history. #arisebank $BTS #BTS pic.twitter.com/L7wdp2GHV9

— Evander Holyfield (@holyfield) January 8, 2018
Rice, 30, first claimed to have raised $300m from AriseBank's coin offering, then upped that figure to $600m, and later promised this could be the first billion-dollar crypto-dosh offering. However, despite all that publicity and hype, it is claimed hundreds of punters invested just $4.25m in exchange for the bank's tokens. Investigators allege Rice then simply took that money, funneled it into his personal bank account, and used it to support his lifestyle and girlfriend, rather than plowing it into his business.
The wheels started to come off the scheme fairly quickly. The Texas banking authorities spotted the promotion, and noted that Rice didn't have a banking licence, it is claimed. They were familiar with him from an earlier run-in, in which Rice admitted [PDF] theft and tampering with government records after forging a Texas Secretary of State Incorporation document – charges he is understood to be still serving probation for. He also owed money after losing civil legal action brought against him.
Crucially, he failed to disclose these convictions, which were related to an earlier internet company venture, during AriseBank's launch, according to US prosecutors.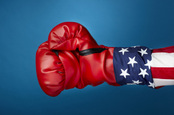 Floyd Mayweather-endorsed cryptocoin startup knocked out by fraud allegations
READ MORE
With the Feds alerted to AriseBank's activities, an undercover FBI agent made a small investment (0.0666 Bitcoin) in its coin offering to collect evidence. At around the same time, Rice appeared to start walking back his claims, issuing a press release in January this year "clarifying" that the bank's accounts weren't FDIC-protected but that the business was in the process of acquiring a FDIC-insured bank.
"Transparency is a trait that we take great pride in at AriseBank," said Rice at the time. "We hope this will help clarify the nature of what we are doing and the vision we have for the future of banking as a whole."
Amid all this, America's financial watchdog the SEC began moves to shut down AriseBank in February, and hauled Rice and his COO Stanley Ford into a civil legal battle in March. Then on Wednesday this week, the FBI moved in, and nabbed Rice.
"My office is committed to enforcing the rule of law in the cryptocurrency space," said US Attorney for the Northern District of Texas Erin Nealy Cox. "The Northern District of Texas will not tolerate this sort of flagrant deception – online or off."
Rice, arrested and charged with securities and wire fraud, faces up to 120 years behind bars if found guilty. ®
Meanwhile... Professional boxer Floyd Mayweather Jr. and music producer Khaled Khaled, known as DJ Khaled, were today accused by the SEC of unlawfully touting crypto-coin offerings. Without admitting or denying the claims, Mayweather will cough up $300,000 in disgorgement, a $300,000 penalty, and $14,775 in prejudgment interest, and Khaled will fork out $50,000 in disgorgement, a $100,000 penalty, and $2,725 in prejudgment interest.