This article is more than 1 year old
Canuck couple returns home after night on tiles to gaggle of randomers hanging out in their flat
Short-term renters? More like short-term raiders
Picture the scene, if you will. You and your partner have just rolled in through the front door after a rare and welcome night out on the lash. You might put the coffee on, maybe swipe a cheeky nightcap, before falling into bed and quickly deciding you're both too hammered to do what lovers do and drift off into deep, interminable sleep.
But you can't. Because a bloke you've never met before is standing at the oven preparing mac 'n' cheese for a dozen other strangers smoking (in your proudly smoke-free house), drinking (your booze, by the way), eating (your crisps) and chatting on your (now) ash and pizza-stained sofas.
What do you do? A couple from the Canadian city of Montreal, Québec, faced this exact quandary at 2am on 10 November.
"When I stepped in, there were about 12 people partying in my place. Total strangers. Nobody who I had ever seen before," Adam Mongrain told CBC Montreal.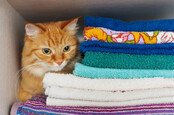 Cops called after pair enter Canadian home and give it a good clean
READ MORE
"It was completely surreal to step into my home and find people I don't know there. I didn't know what to do."
Of course the first question would be what in the name of Odin's beard is this band of merry-makers doing, uninvited, at your pad?
Grilling the first person available, Mongrain was told something along the lines of: Whoa, dude, chill. We just, like, booked this place out so, like, we had somewhere to crash and smoke. Booking.com. Check it out, man.
At least that's El Reg's interpretation.
Booking.com sells deals on hotels and short-term rentals. The group claimed they had reserved the apartment through the website.
Mongrain's place had never been on any such service, but a flat on the lower level of the building, managed by the landlord, was listed.
Mongrain explained this to the gaggle and they filed out in an orderly manner. In their absence he noticed many personal belongings, including a laptop and passports, missing to an estimated value of $6,000.
"It's been two weeks and it still doesn't make sense whenever I think about it because they had ordered pizza that they didn't touch," Mongrain lamented. "It was still intact when we walked in and one of the men was cooking macaroni.
"It's hard to convey the extent to which the place was trashed."
The landlord accepted the facts of the night, but denied ever passing Mongrain's keys to the group.
"Thank God we were insured," the frazzled tenant said. The cleaning bill alone came out to $3,500 because of stains on the sofas, walls and carpets. The insurance company stumped up to have someone scrub the place for them – a relief to Mongrain because CBC described the task as "too emotionally difficult to do himself".
Police are investigating this fresh cup of Thursday WTF. ®