This article is more than 1 year old
Nutanix uses quarterly results to spill its multi-cloud future beans
From hyper-converged infrastructure appliances to a multi-cloud hypervisor
It's been a busy Wednesday for Nutanix: a new tie-up with tier-two vendor Juniper Networks, the general availability of the Xi Cloud services confirmed, and deepening losses in its latest financial figures.
For the first quarter of its fiscal 2019, the three months to October 31, Nutanix's revenues jumped almost 14 per cent to $313.3m. The biz posted a loss of $94.3m, about 50 per cent larger than the year-ago's $61.5m loss.
Nutanix's quarter-on-quarter sales growth is steadily slowing. What is behind this? The company is eliminating hardware revenues, and moving to a software revenue-only model, as well as also moving over to subscription revenues.
For Q1, software and support revenue was $280.7m, growing 44 per cent year-over-year from $194.7m. Free cash flow was $20m, compared to negative free cash flow of $7.9m a year ago. Total net cash rose to $965m; it was $366m a year ago. The customer count moved up to 11,490, with a rise of 880 on the previous quarter. There's no evidence there of a new customer addition slowdown. Guidance for next quarter is for revenues between $325 and $335m.
In a conference call with analysts on Wednesday, CFO Duston Williams said: "Beginning in Q2, the quarterly decline in year-over-year growth in total billings and total revenue that we've experienced during our transition away from pass-through hardware is expected to moderate and growth will eventually reaccelerate as we go forward."
"Our results this quarter prove that our core business continues to grow strongly and put us on a solid path to meet our goal of at least $3bn in software and support billings by 2021," added Dheeraj Pandey, CEO of Nutanix. He said this will involve three large workload types running on top of Nutanix Core; unstructured data, which is files and objects; structured data, which is databases, and desktops, aside from virtualisation and containers.
"51 per cent of our billings in our first quarter were derived from subscriptions, up from 31 per cent in the same quarter last year, and our subscription revenue grew 104 per cent year-over-year," Pandey said. "As we look ahead, we expect to continue this shift towards subscription, driving a cloud-like, pay-as-you-grow business model."
He boasted about Nutanix's land-and-expand strategy success, saying: "In this quarter alone, we closed 63 deals worth more than $1m and three deals worth more than $5m, and we now have 15 customers who have lifetime spend of more than $15m and more than 700 customers with a lifetime spend of more than $1m."
And he added this gem: "We reached $1bn in annual revenue faster than any other software company founded in the past 20 years. Salesforce, Palo Alto, Workday included." Except that, ahem, Nutanix was founded as a hardware and software company but, hey, who minds a little bit of reality distortion in this day and age?
William Blair analyst Jason Ader commented: "Overall, despite a litany of fears that emerged since the last earnings call (mainly around competition and spending), we believe first-quarter results and guidance demonstrate continued strong traction with large deals, clear competitive differentiation, and a healthy demand environment."
Xi Cloud Services
Nutanix also announced the general availability of Xi Cloud Services, a suite of SaaS offerings designed to create a more unified fabric across different cloud environments. Xi can run applications on the optimal platform. Xi Cloud Services is comprised of five distinct offerings: This Xi Leap for disaster recovery as a service, Xi IoT for edge cloud computing, Frame for cloud-native desktop-as-a-service, Beam for multi-cloud governance, and Epoch for multi-cloud application observability and monitoring.
Pandey said: "Most Xi Services use Nutanix Core and Essentials. Yet others make them better by being multi-cloud … All Core and Essentials products, currently running on-prem, will become part of the Xi catalog, and that is what every computing company on the face of this planet covets, a catalog that can run both on-prem and off-prem."
Regarding Xi Leap, he said: "DR is a huge adjacency for us, and will also become a highly automated way for us to migrate workloads off-prem with one-click."
Juniper partnership
Nutanix and Juniper are also partnering to provide better multi-cloud operational and security offerings. They have an intention that Juniper's Contrail Enterprise Multicloud be integrated with Nutanix APIs to provide enhanced network visibility for virtualised workloads, ultimately facilitating automated fabric management. Working with Nutanix, Juniper will provide a simplified and scalable network fabric, based on Juniper's QFX switches for Nutanix Enterprise Cloud users, through the integration of Contrail Enterprise Multicloud with Nutanix's APIs.
It's intended that Juniper's Unified Cybersecurity Platform – together with Nutanix's software-defined networking offering, Flow, and AHV hypervisor – will secure applications with micro-segmentation in Enterprise Cloud, and prevent lateral propagation of threats from an affected area.
Enterprises will be able to deploy the vSRX integrated virtual firewall in their Nutanix environment, extending the same capability across multiple clouds with a single point of control, using vSRX on-premises and in AWS, Azure and the Google Cloud Platform.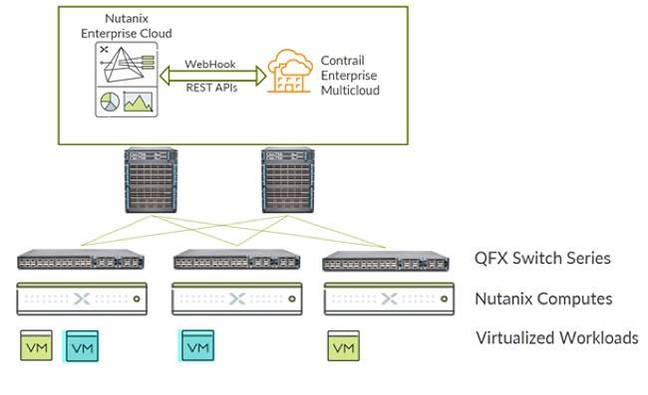 Nutanix and Juniper integration
Integration of Juniper's Contrail Enterprise Multicloud solution with Nutanix Prism and AHV will enable enterprises to build their own private cloud, and move workloads between multiple public clouds and their private cloudy network.
John White, VP Product Strategy at Nutanix and Juniper customer Expedient, said: "We have separately used both Juniper and Nutanix technology as components of Expedient's Enterprise Cloud and Disaster Recovery solutions … This partnership further validates our vision of having a single security perimeter to protect workloads across clouds."
Multi-cloud machinations
The whole multi-cloud area is, for Pandey, a huge Nutanix opportunity. He thinks applications will need to be movable between clouds and that means an abstraction layer needs laying across the multiple clouds, both on- and off-premises clouds, to facilitate this. Pandey refers to this as a multi-cloud hypervisor, saying: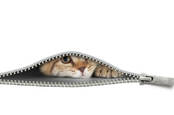 Post-HCI hardware vendor Nutanix keen to show its soft side as it flashes Q4 numbers
READ MORE
"There will be need for a new, and I'm going to use a metaphor, a hypervisor or virtualisation stack on top of multiple clouds, just like there was a need for virtualisation or a hypervisor across multiple servers and across multiple storage boxes on-prem."
The multi-cloud hypervisor will have policy engines informing users about cost, governance, compliance and, probably, performance issues, and mechanisms to migrate whole application stacks from one cloud to another.
"We have built a few mechanisms; in fact we'll announce a few of them tomorrow around migration and drag and drop from one cloud to another, on-prem to off-prem, disaster recovery seamlessly with one click, so migration becomes a killer app for multi-cloud, just like it was a killer app for – within the on-prem world, the killer app for VMware was VMotion and Storage VMotion and DRS, HA," he said.
"VMware became a very large company because of building seamless mobility across different hardware boxes and that's what's required across multiple clouds itself. And that's how you commoditise anything. You commoditise anything by virtualising and you virtualise something by bringing portability of applications in a one-click seamless fashion."
By inference, then, Nutanix could become a very large company, too. ®