This article is more than 1 year old
HP's Neon Dion says if anything goes wrong, it's totally Intel's fault: CPU shortage may hit PC maker's financials
Once upon a time it was Windows 10. Now it's Chipzilla's turn
HP Inc is flying high after netting a year of double-digit revenue gains, but execs are worried that a looming CPU shortage will hurt its sales in the coming months.
CEO Dion Weisler noted on Thursday that both the fiscal quarter and the full-year numbers showed the biz doing very well in the competitive PC and printing markets.
For the fiscal 2018 fourth quarter, ending October 31:
Revenue of $15.4bn was up 10 per cent from $13.9bn last year.
Net income of $1.45bn was up from $660m in the year-ago quarter.
Non-GAAP earnings per share of $0.54 were in line with analyst estimates.
Personal Systems revenues of $10bn were up 11 per cent from $9bn in Q4 of 2017. Notebook revenues were up 14 per cent, while desktops were up 6 per cent and workstations 10 per cent.
Printing revenues of $5.3bn were an increase of 9 per cent from $4.86bn last year's quarter. Commercial printing led the gain as its revenues climbed 16 per cent. Consumer printing revenues were up 7 per cent, and supplies gained by 7 per cent.
The strong quarter closed out a solid year for HP Inc as well. For the entire fiscal 2018:
Revenues of $58.5bn were up from $52bn in 2017.
Net income of $5.3bn was up from $2.5bn the previous year.
Non-GAAP earnings per share were $2.02, topping earlier estimates of $2.00.
Personal systems group revenues of $37.7bn were up from $33.3bn last year.
Printing revenue was $20.8bn, compared to $18.8bn in 2017.
"These results reflect our continued innovation across the portfolio and sharp execution across segments and regions as we position HP for continued long-term sustainable growth," Weisler said of the year-end financial report.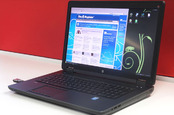 Who hit you, HP Inc? 'Windows 10! It's all Windows 10's fault'
READ MORE
The HP Inc. boss was not as optimistic about the coming months, however. Weisler told analysts that HP expects to see PC revenues held back in the first fiscal quarter of 2019 because of the looming CPU chip shortage.
Weisler reiterated an earlier warning that Intel would not be able to get enough chips out to meet demand, and that could have a short-term impact on HP's bottom line.
"We are seeing that impact across multiple families of core products, they have an affect on both the high and low end of the range," Weisler told analysts on a conference call.
"This is just something that we have to work through with our customers, suppliers, and our sellers in the short term."
HP shares were up 0.6 per cent in after hours trading, at $23 apiece. ®