VMware has attributed a good third financial quarter to continuing strong interest in hybrid cloud services, payoffs from its AWS partnership, and an economy that remains friendly to technology spending even when there are headwinds elsewhere.
Summarizing VMware's three months to November 2, aka its fiscal 2019 Q3:
Total Revenue rose 14 per cent year-on-year to $2.2bn.
Licensing revenue rose 17 per cent year-on-year to $884m. Services rose 10 per cent to $1.32bn.
GAAP net income was down due to a loss of $161m from its investment in Pivotal Software, falling 16 per cent overall to $334m compared to $395m in Q3 fiscal 2018. Specifically, the multimillion-dollar loss "related to VMware's investment in Pivotal to adjust it to its fair value."
GAAP earnings-per-share was down from $0.96 to $0.81.
The company's guidance for the full 2019 financial year has been lifted to $8.882bn, with GAAP net income per diluted share of between $5.95 and $6.07. Combine that with exceeding analysts' expectations for Q3 profit, and you get shares up nine per cent after-hours to $176.30 apiece.
The positives in the numbers left CEO Pat Gelsinger and CFO Zane Rowe fielding plenty of analyst questions on a conference call that sounded more like "what's the secret to your success?" than deep examination of VMware's strategy and performance.
Gelsinger told Wall St that upsides like hybrid cloud and SaaS rising 35 per cent, NSX (including VeloCloud) rising 40 per cent, and vSAN up 50 per cent year-on-year more than offset flatness in basic compute revenue.
He explained that how customers buy from VMware is changing – the company now sells complete platforms that include compute, rather than compute on its own.
While software maintenance revenues rose 12 per cent year-on-year to $1.14bn, it's falling as a proportion of VMware's revenues (down from 52.4 per cent to 51.7 per cent), but Gelsinger said that reflected a shift in the business towards products sold purely as licenses.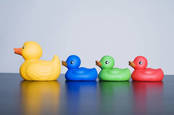 If you're using Dell EMC Avamar, even in VMware's vSphere, you need to grab and install these security updates
READ MORE
Gelsinger was bullish, not only about VMware but also about what 2020 holds for IT spending overall. That led him to predict revenue growth of around 12 per cent for fiscal 2020.
"In spite of economic turbulence, you're going to see IT spend a good 4-5 per cent above the economic growth outlooks," he told the conference call.
That belief, he said, comes from the way IT spending is breaking out of the IT department: "More and more areas are contributing budget into the technology spend, because it's becoming critical to every part of the business."
Rowe plucked out the growth in IoT devices at the edge – things like sensors and CCTV cameras, for example – as good news for VMware's hybrid offerings. He said it's impossible to get a 500ms response from an application if pulling everything back to a single central cloud adds at least 100ms to every round trip.
"Computing closer to the source of the data" means more compute at the edge, Rowe said, and that puts a premium on hybrid cloud infrastructure. ®